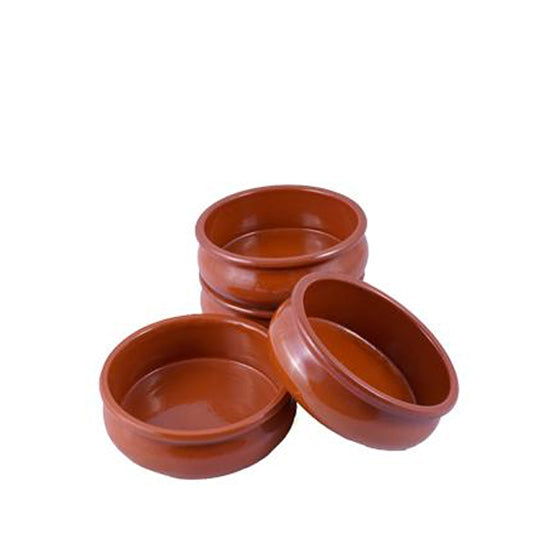 Terracotta cazuelas are traditional low-fired clay cookware from Spain.  Similar in shape to a casserole, they are wide and flat and glazed on the inside to retain moisture and cooking liquids.

Terracotta cazuelas can be used in place of a sauté pan or skillet, a paella pan, or as an oven casserole. Terracotta cookware holds a slow and steady heat, allowing foods to cook gently and evenly, and retains the heat when removed from the stove, allowing cooking to continue at the table for a dramatic presentation.
Origin: Breda, Catalonia
Variety : Rustic Terracotta in traditional Mediterranean colors
Recommended use: ideal serving dish for olives, tapas and other Mediterranean pincho, sautéing and frying, and baking Spanish and Latin American stews
Formats: 11.5 cm, 13 cm, 15 cm, 17 cm and 20 cm
Certified Organic: Natural clay is our main raw material, abundant and clean element in nature. All glazes and varnishes have been tested and found to comply with the European and International regulations related to the environment. Organic products based on three of the four elements of nature like earth, water and fire. Natural ingredients that cause even less impact on the environment as they can return to its natural state at any time ISO 9001/2000 Certification
Disclaimer
Khayyan Specialty Foods, ZONA Food Market, Khayyan LLC and all its affiliates and partners make every effort to ensure that the product information provided on this e-commerce website and all packaging is current and accurate. Manufacturers do occasionally change their ingredient lists without prior notice. Information regarding product packaging and materials may differ or be more comprehensive than what is displayed on our website and packaging. We advise you to read labels, cautions, and instructions before using or consuming a product and not to rely solely on the provided information, including but not limited to the product description, country of origin, nutrition, ingredients, allergens, and other details. If you require further information, please contact us at www.khayyan.com.
Khayyan LLC, the owner of this e-commerce website, disclaims any and all responsibility for inaccuracies, omissions or misstatements on the product labels and throughout product descriptions found on this e-commerce website.
Share: