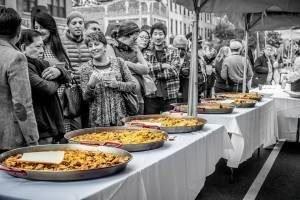 Traditional Paella pan for all occasions.  Paella pans are versatile for cooking either on stove top, in the oven, or on top of barbecue grill.  Additionally versatile in what dishes may be made with the traditional paella pan such as all rice dishes, risotto, meats, breakfast eggs and so much more.
Paella is for the world

Origin: Valencia, Spain
Variety : No rust, no chip, dish wash safe and use on all stove tops, oven, grill, open fire.
Recommended use: any and all dishes
Formats:
10 cm (small single serve fun decorative or quick prep food)
22 cm 

(medium single serve fun decorative or quick prep food)

30 cm (4 to 6 person servings)
38 cm (8 to 10 person servings)
Disclaimer
Khayyan Specialty Foods, ZONA Food Market, Khayyan LLC and all its affiliates and partners make every effort to ensure that the product information provided on this e-commerce website and all packaging is current and accurate. Manufacturers do occasionally change their ingredient lists without prior notice. Information regarding product packaging and materials may differ or be more comprehensive than what is displayed on our website and packaging. We advise you to read labels, cautions, and instructions before using or consuming a product and not to rely solely on the provided information, including but not limited to the product description, country of origin, nutrition, ingredients, allergens, and other details. If you require further information, please contact us at www.khayyan.com.
Khayyan LLC, the owner of this e-commerce website, disclaims any and all responsibility for inaccuracies, omissions or misstatements on the product labels and throughout product descriptions found on this e-commerce website.
Share: