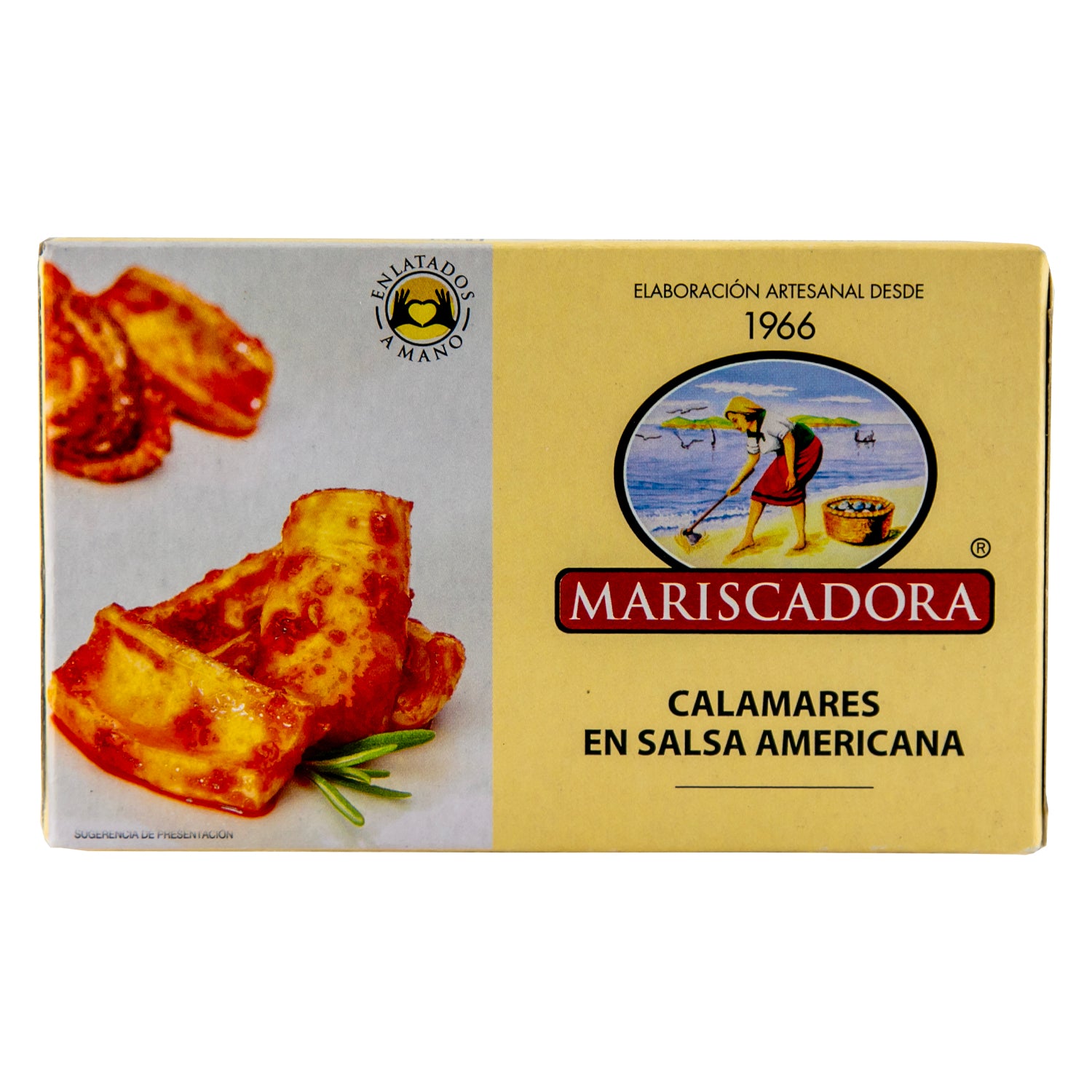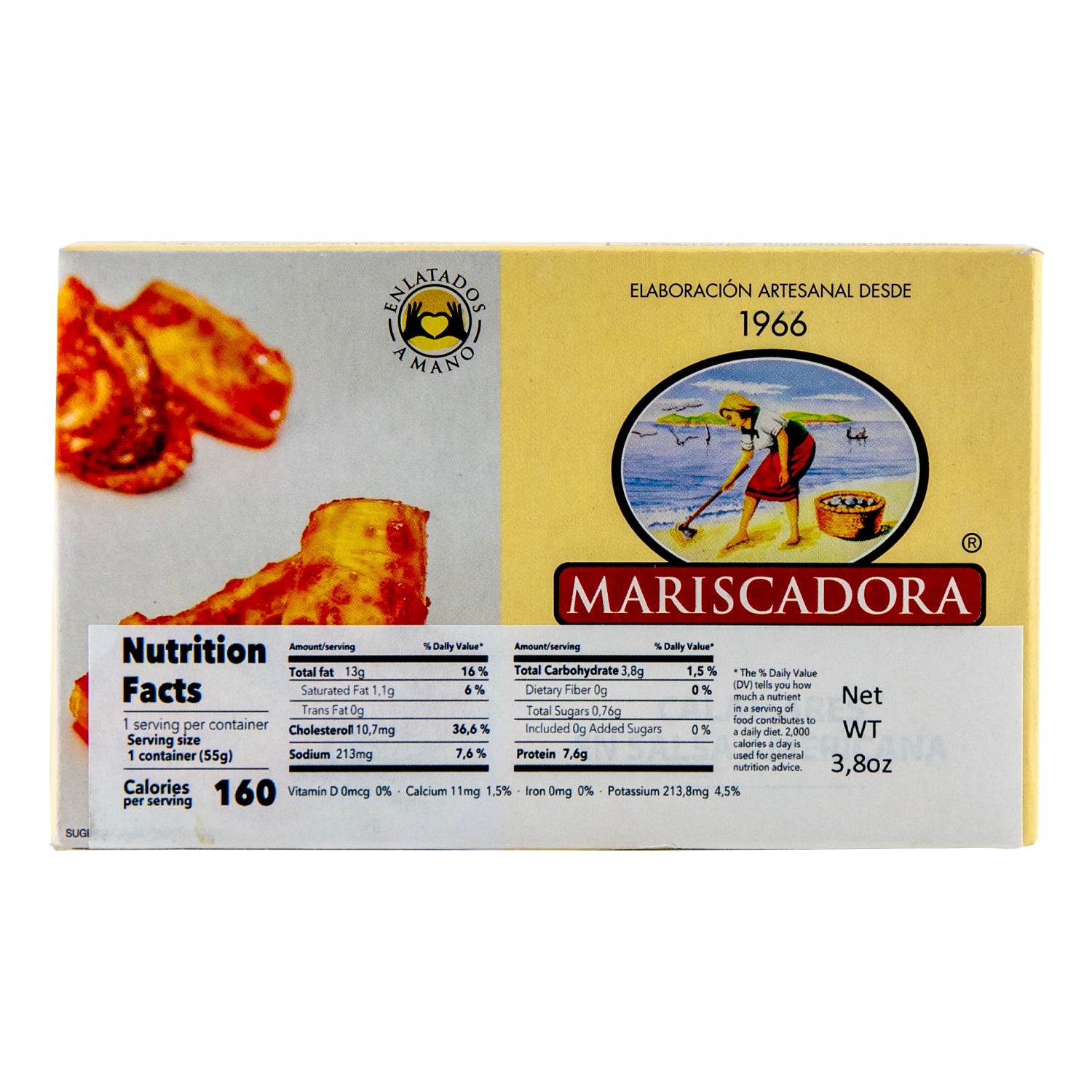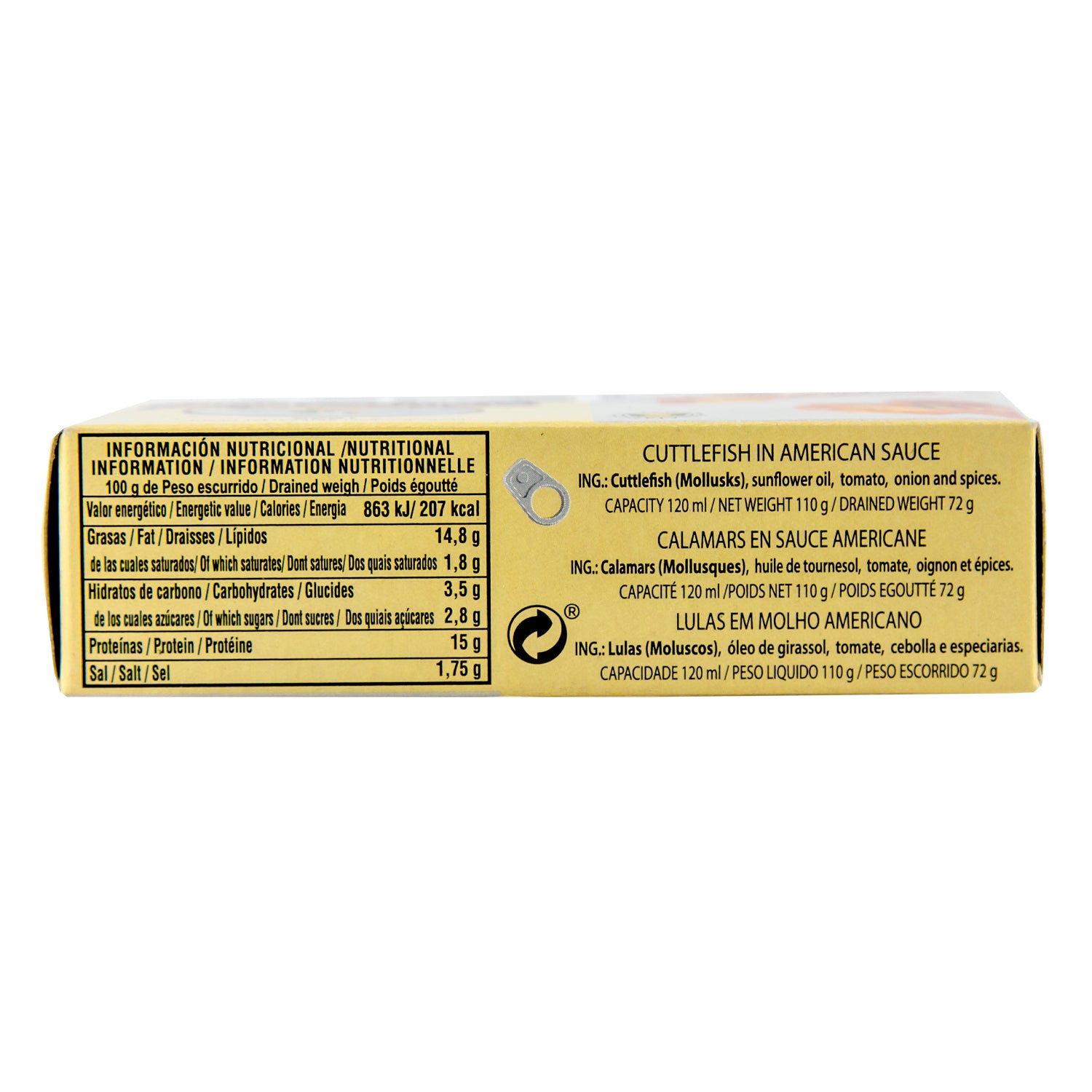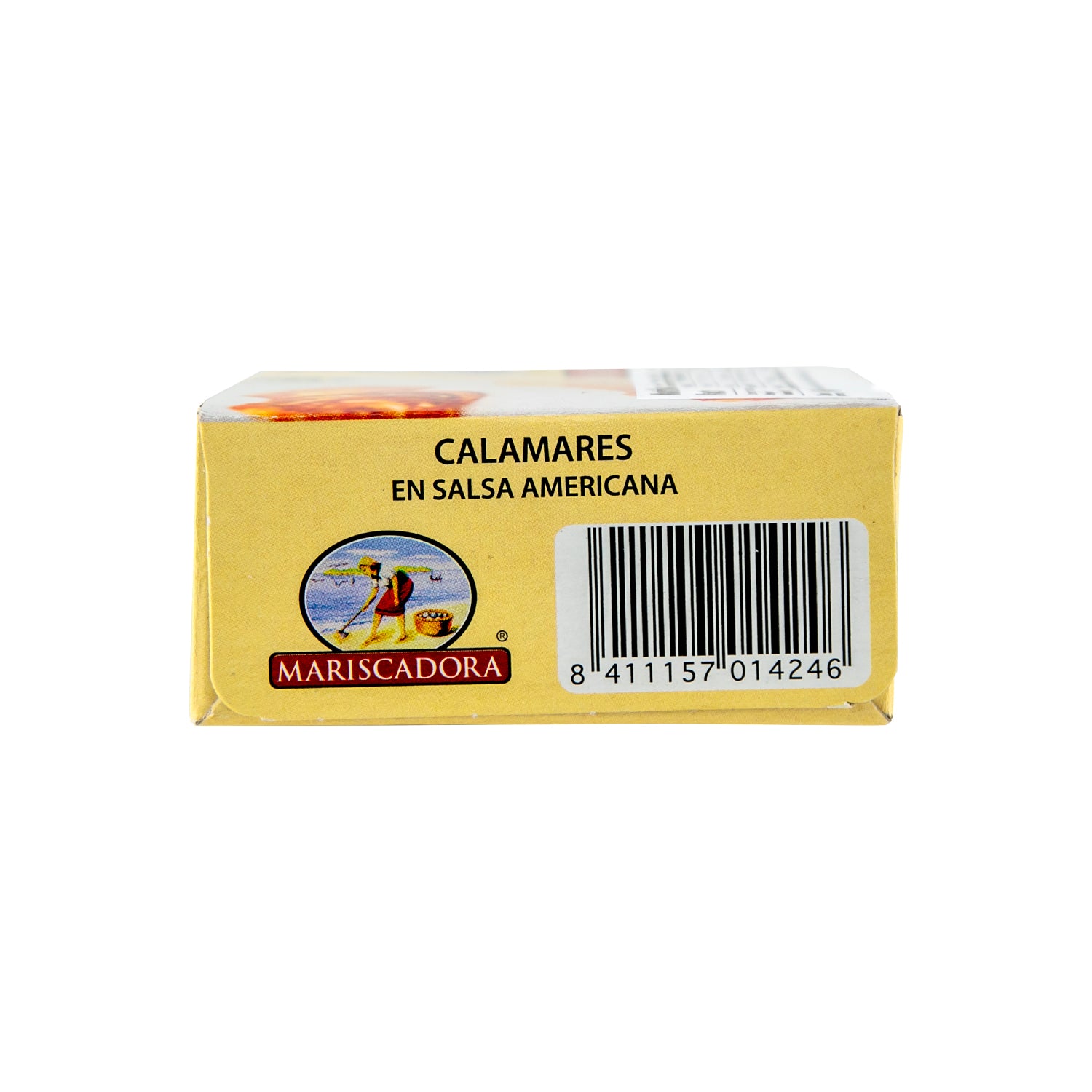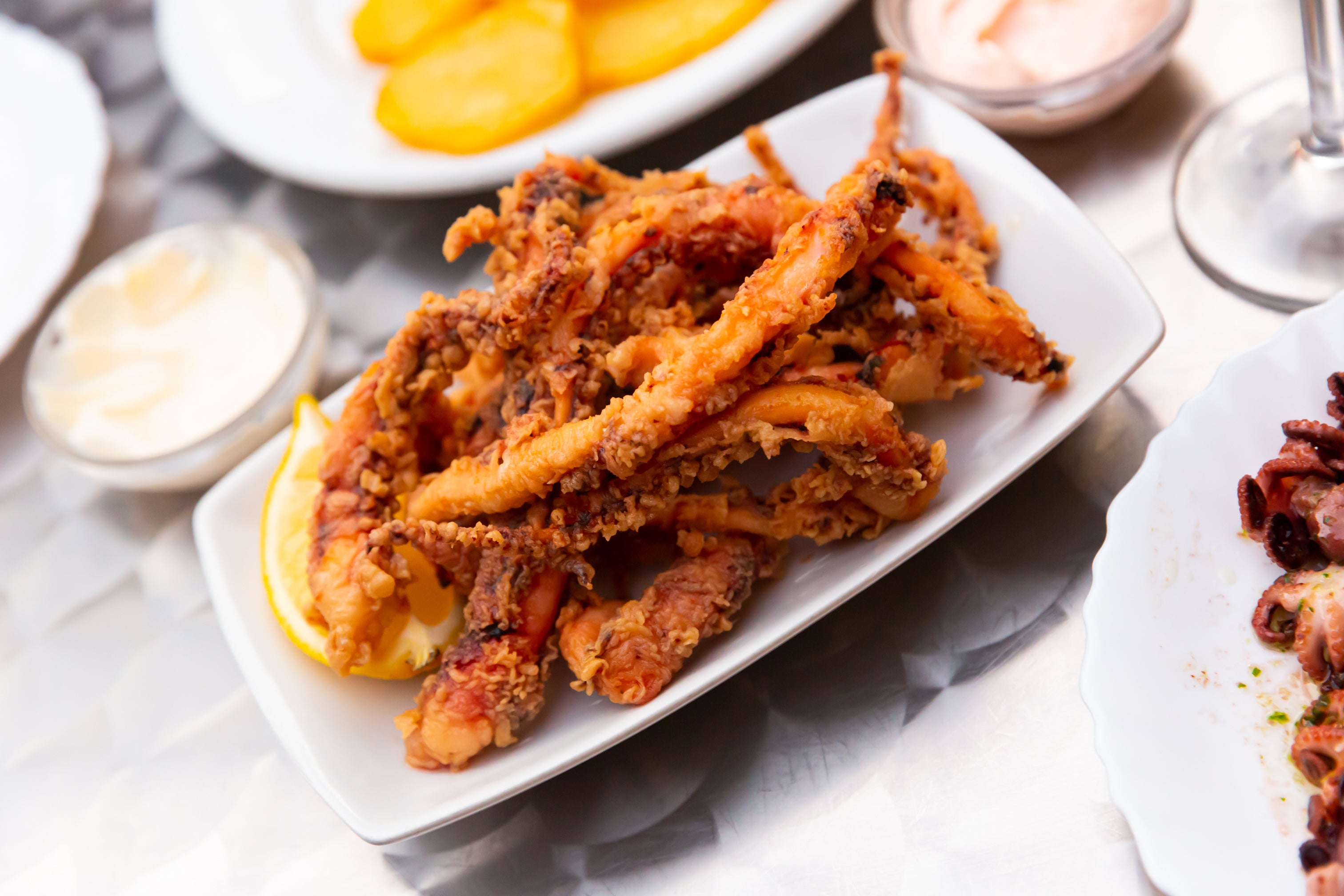 Mariscadora Squids (Pieces) in American sauce are a delicious seafood option, made with tender squid and a flavorful sauce. Perfect as a snack or a side dish, these pieces are an excellent source of lean protein and contain omega-3 fatty acids. Enjoy them as part of a nutritious meal tonight.
Product: Mariscadora Squids (Pieces) in American sauce

Origin: Galicia Spain (Hand Packed)
Ingredients: Cuttlefish (Mollusks), sunflower oil, tomato, onion and spices
Recommended use: 

crostini, dip, pizza topping

Size: 110 gr (3.8 oz) Easy Open Can
About Mariscadora Squids (Pieces) in American sauce:
Squids (Pieces) in American sauce from Spain is a seafood dish that consists of squid pieces cooked in a tomato-based sauce with spices and herbs. Squids in American sauce is a popular canned seafood product in Spain, and it is often used in various dishes, such as pasta, sandwiches, pizza, and crostini. The squid pieces are cooked in a sauce made from tomato, onion, garlic, and other spices and herbs, which gives the dish its distinctive flavor. The dish can be served as a main course or as an appetizer. It can be enjoyed on its own or used as a topping for various dishes.
How to serve Mariscadora Stuffed squids in ink:
With rice: Serve the Squids (Pieces) in American sauce with a side of rice. The rice can be cooked in the same sauce as the squids to absorb the flavors.

As a topping for pasta: Serve the Squids (Pieces) in American sauce over cooked spaghetti, ravioli, or other pasta. Sprinkle with freshly grated Parmigiano Reggiano cheese for added flavor.

In a sandwich: Use the Squids (Pieces) in American sauce as a filling for a sandwich. Add lettuce, tomato, and other desired toppings for a delicious and filling meal.

As a pizza topping: Use the Squids (Pieces) in American sauce as a topping for homemade or store-bought pizza. Combine it with other ingredients like olives, capers, red onions, and mozzarella cheese for a delicious seafood pizza.

As a dip: Puree the Squids (Pieces) in American sauce in a food processor until smooth. Serve the dip with crackers, chips, or vegetables for a tasty appetizer.
Disclaimer
Khayyan Specialty Foods, ZONA Food Market, Khayyan LLC and all its affiliates and partners make every effort to ensure that the product information provided on this e-commerce website and all packaging is current and accurate. Manufacturers do occasionally change their ingredient lists without prior notice. Information regarding product packaging and materials may differ or be more comprehensive than what is displayed on our website and packaging. We advise you to read labels, cautions, and instructions before using or consuming a product and not to rely solely on the provided information, including but not limited to the product description, country of origin, nutrition, ingredients, allergens, and other details. If you require further information, please contact us at www.khayyan.com.
Khayyan LLC, the owner of this e-commerce website, disclaims any and all responsibility for inaccuracies, omissions or misstatements on the product labels and throughout product descriptions found on this e-commerce website.
Share: