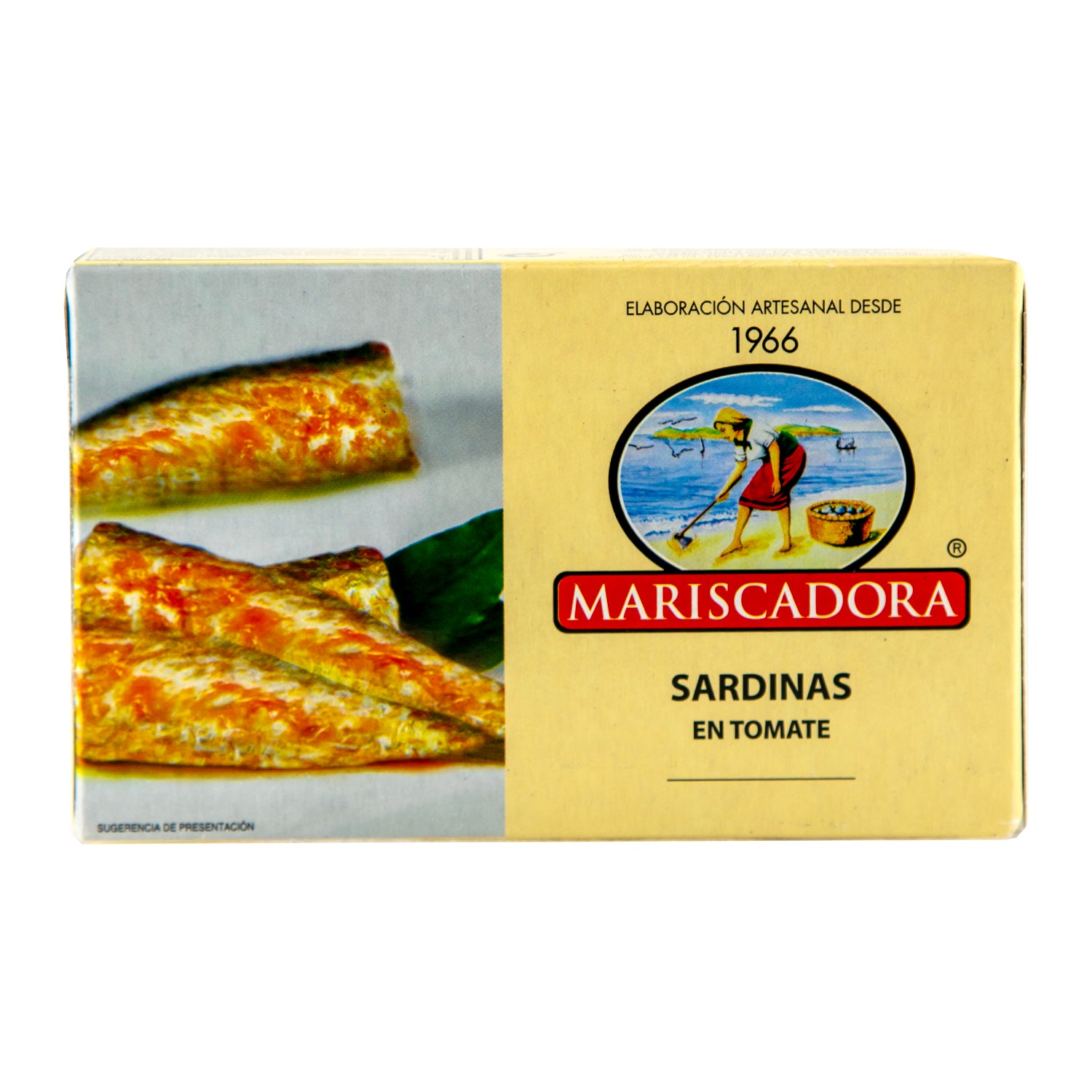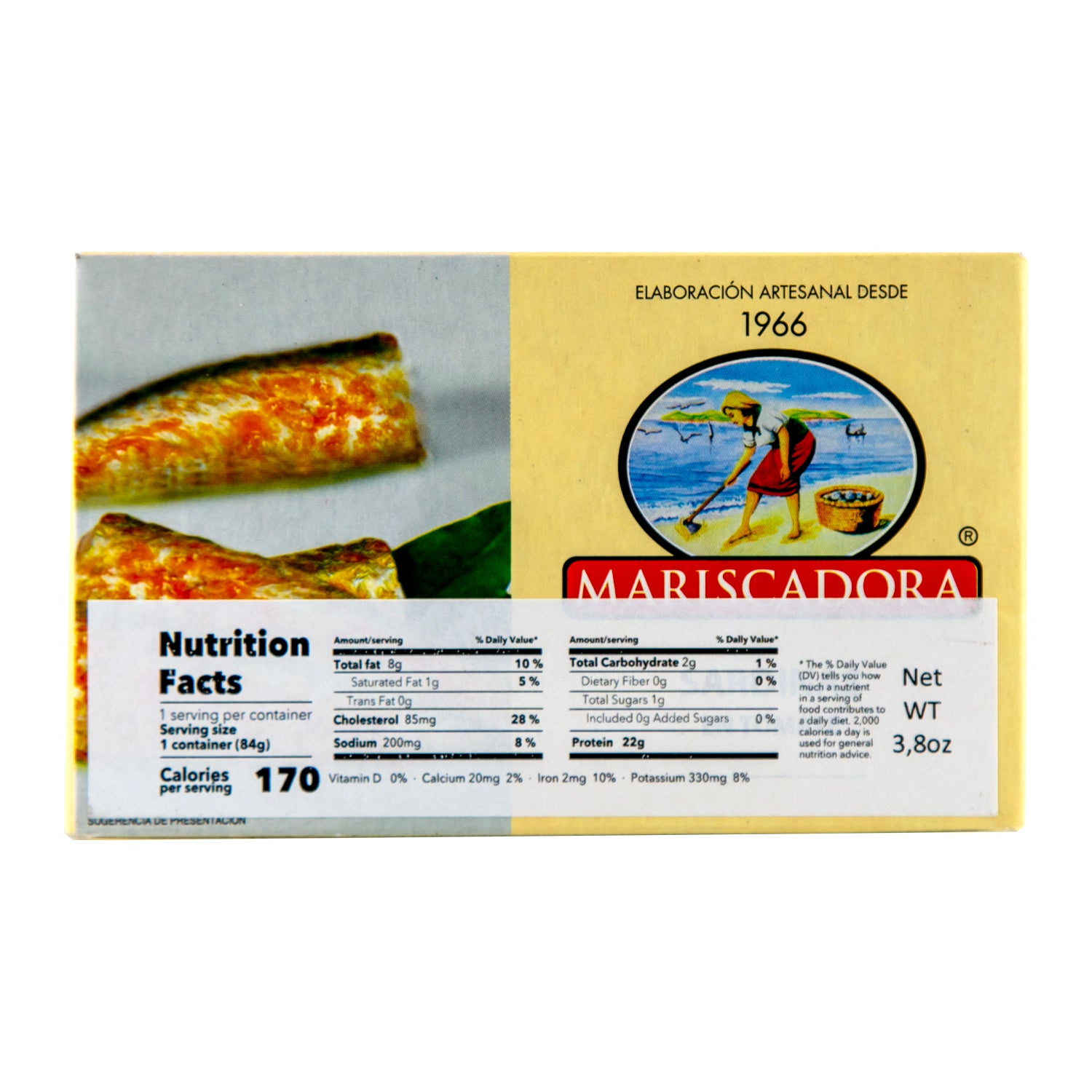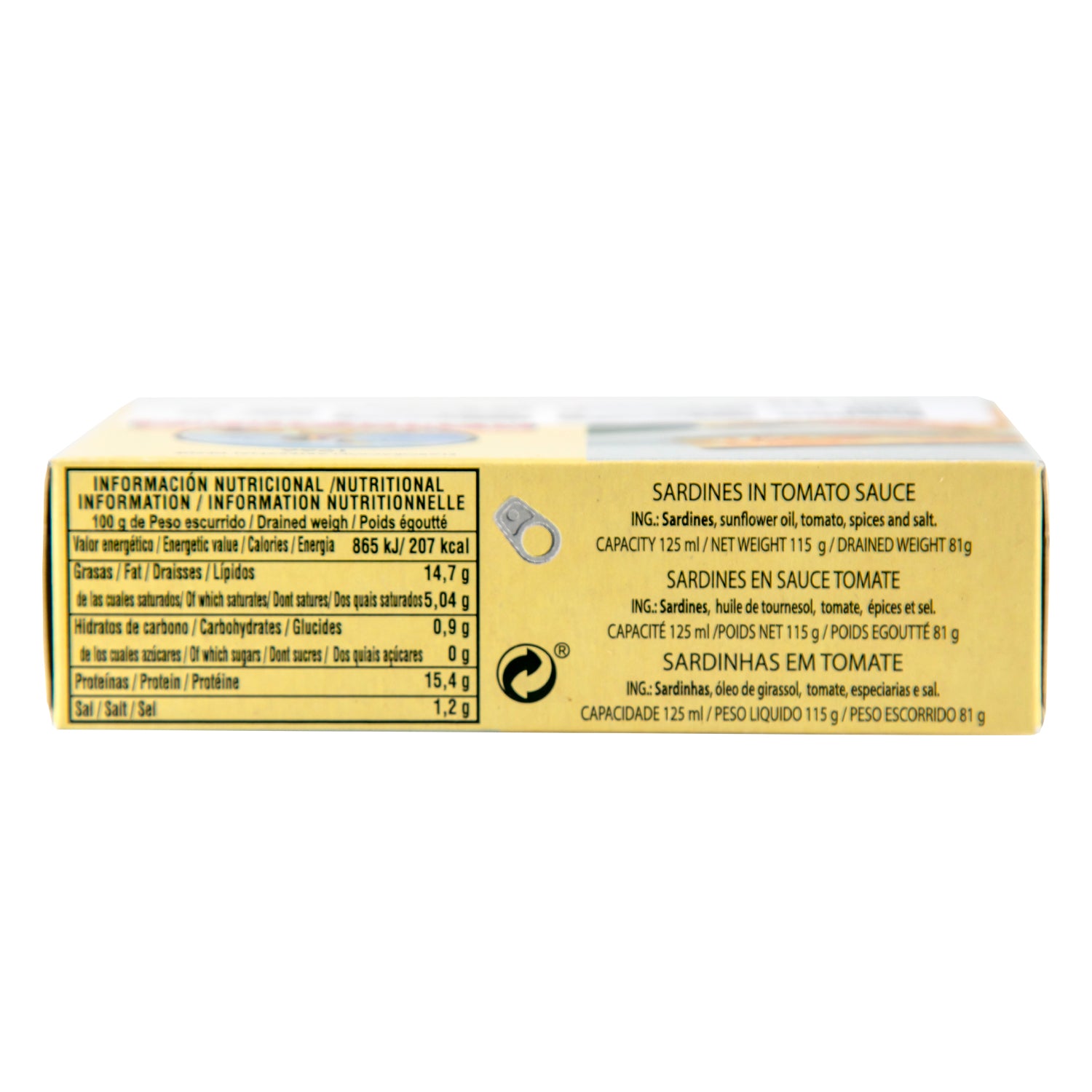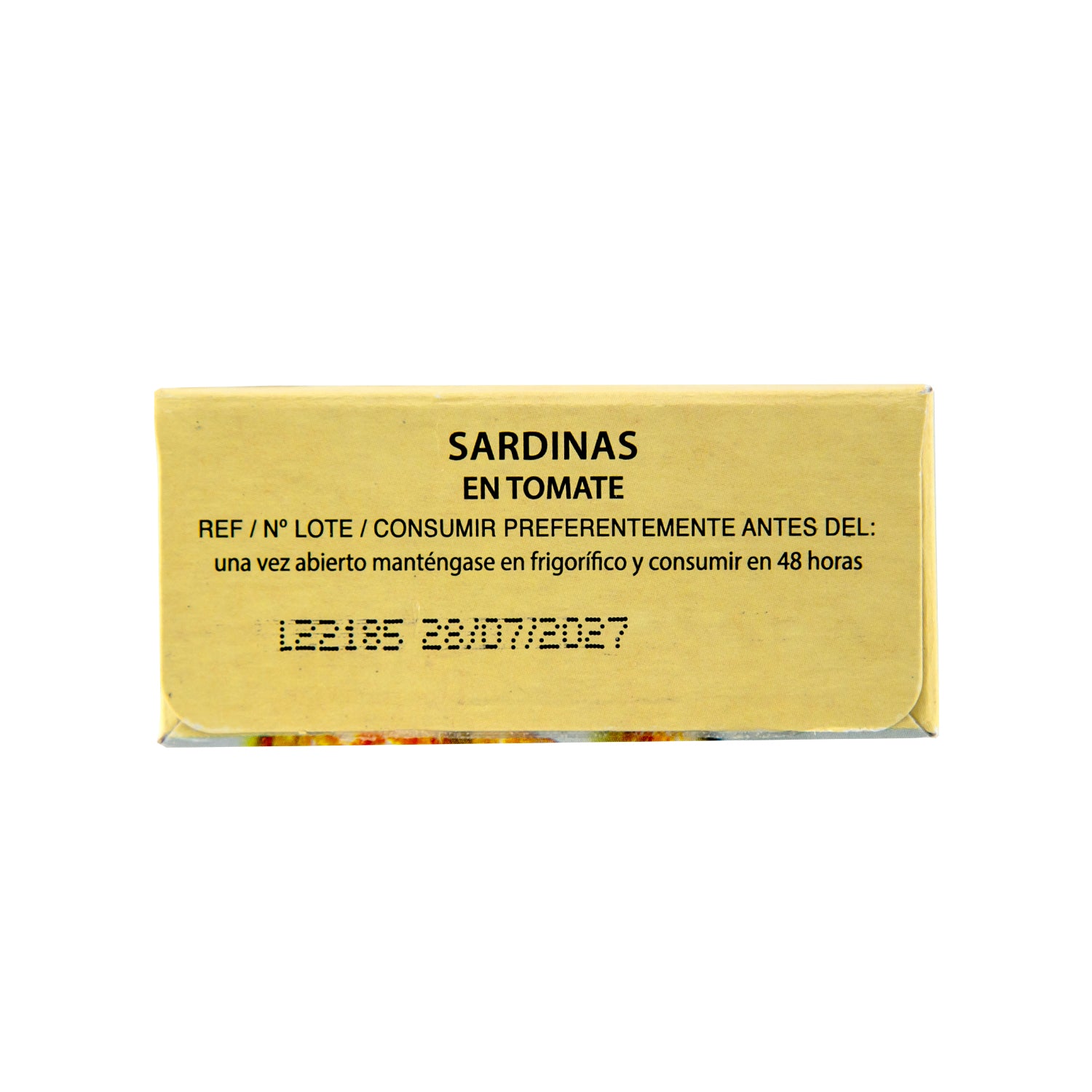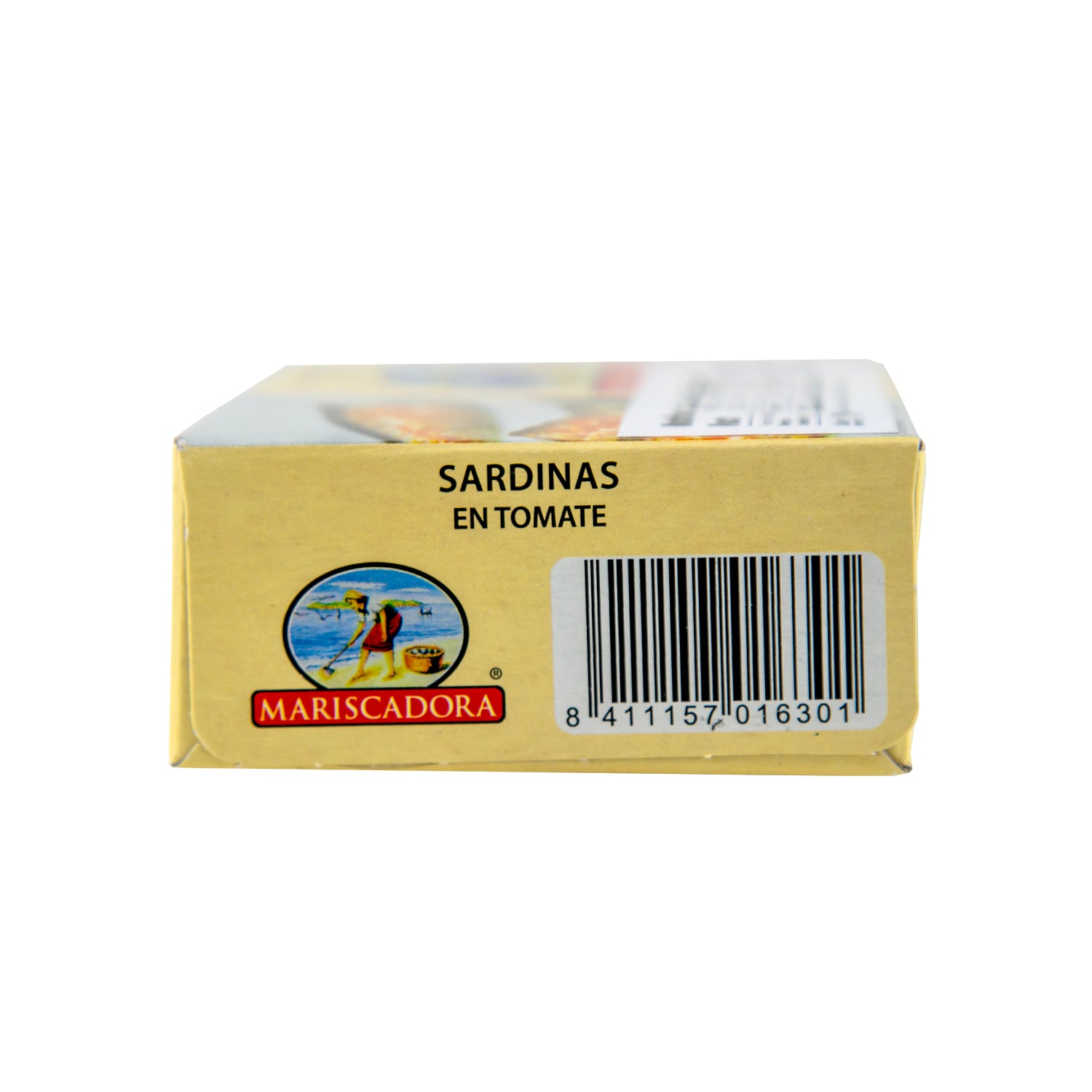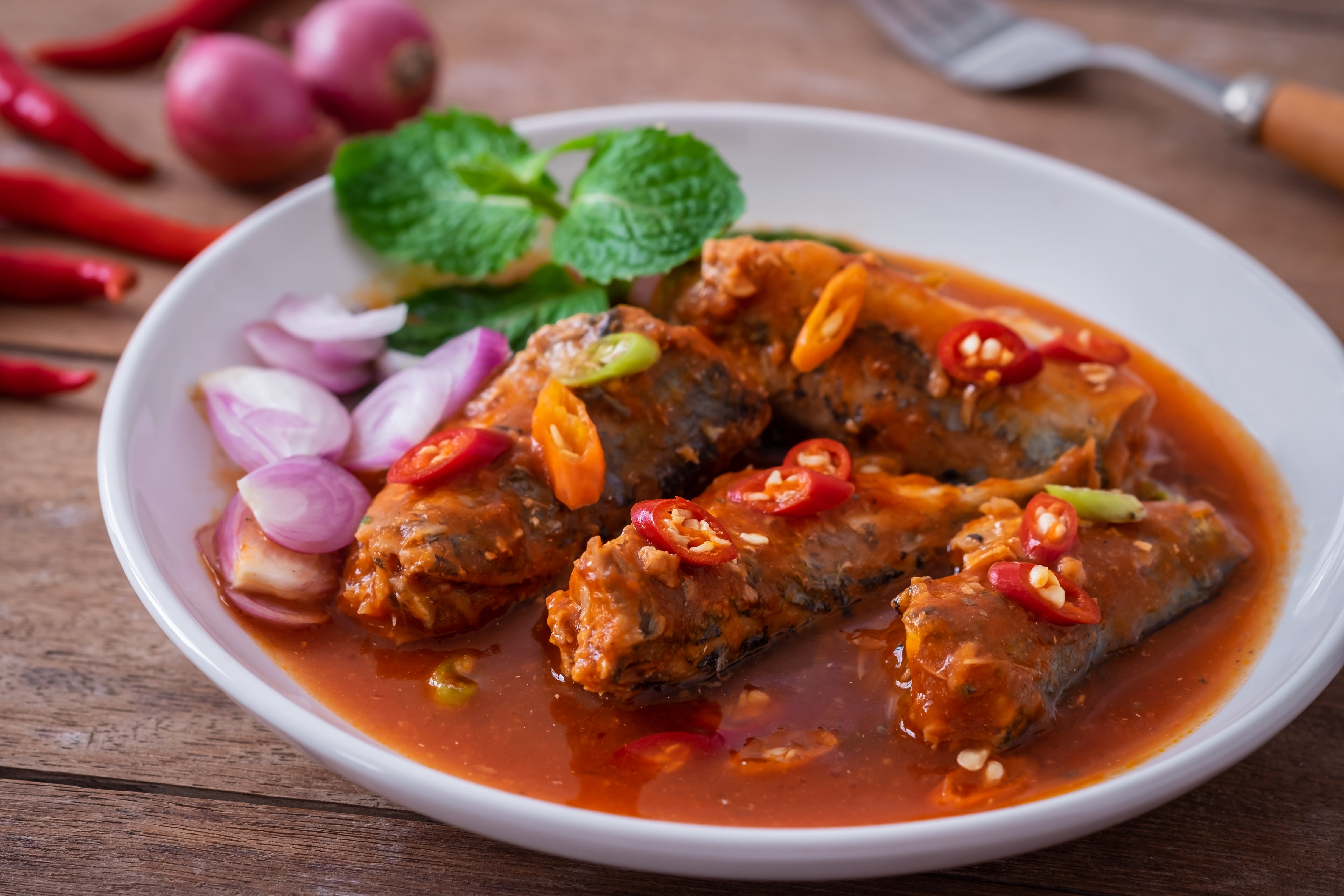 Mariscadora Sardines in Tomato sauce provides a convenient source of healthy omega-3 fatty acids and protein. This delicious dish contains no preservatives and is prepared using locally-sourced ingredients for authentic flavor and texture. Enjoy the classic taste of sardines in a rich and savory tomato sauce.
Product: Mariscadora Sardines in Tomato sauce

Origin: Galicia Spain (Hand Packed)
Ingredients: Sardines, sunflower oil, tomato, spices and salt
Recommended use: tapa, salad, sandwich, pasta
Size: 115 gr (3.8 oz) Easy Open Can
About Sardines in Tomato sauce:
The history of sardines in Spain dates back to ancient times when the Phoenicians and Greeks established trading colonies along the Spanish coast. These early civilizations recognized the abundance of sardines in the waters around Spain and began to fish and preserve them. Over time, the Spanish developed various techniques for preserving sardines, including smoking, salting, and canning. These preserved sardines became a staple food in Spain and were exported throughout Europe and beyond. Sardines in tomato sauce, or sardinas en tomate, is a popular way to prepare sardines in Spain. The dish typically involves frying fresh sardines and then marinating them in a mixture of vinegar, water, garlic, bay leaf, and other seasonings.
How to serve Mariscadora Sardines in Tomato sauce:
Sardine Rice Bowl: Cook rice and top it with canned sardines in tomato sauce and fried or poached eggs. Add sliced onions and red pepper flakes for extra flavor.

Tomato Sauce with Sardines: Make a simple tomato sauce with onions, garlic, and diced tomatoes. Season with salt, black pepper, and paprika. Add canned sardines in tomato sauce and lemon juice. Serve with parsley and bread.

Spanish Sardines in Tomato Sauce: Make a tomato sauce with onions, garlic, and tomatoes. Season with sweet smoked Spanish paprika, salt, pepper, and sugar. Blend the tomato sauce until smooth and add high-quality sardines in olive oil on top. Serve with roasted potatoes and a Spanish salad.

Sambal Sardines: Cook dried chili paste in a pan, then add water, tamarind paste (optional), salt, and sugar to taste. Add canned sardines in tomato sauce and let it cook for a few minutes. Serve with rice or bread.

Spicy Sardines in Tomato Sauce: Sauté onions, tomatoes, and red Thai chili peppers in cooking oil. Add canned sardines in tomato sauce and season with salt and pepper. Garnish with chopped green onions and serve.

 
Disclaimer
Khayyan Specialty Foods, ZONA Food Market, Khayyan LLC and all its affiliates and partners make every effort to ensure that the product information provided on this e-commerce website and all packaging is current and accurate. Manufacturers do occasionally change their ingredient lists without prior notice. Information regarding product packaging and materials may differ or be more comprehensive than what is displayed on our website and packaging. We advise you to read labels, cautions, and instructions before using or consuming a product and not to rely solely on the provided information, including but not limited to the product description, country of origin, nutrition, ingredients, allergens, and other details. If you require further information, please contact us at www.khayyan.com.
Khayyan LLC, the owner of this e-commerce website, disclaims any and all responsibility for inaccuracies, omissions or misstatements on the product labels and throughout product descriptions found on this e-commerce website.
Share: