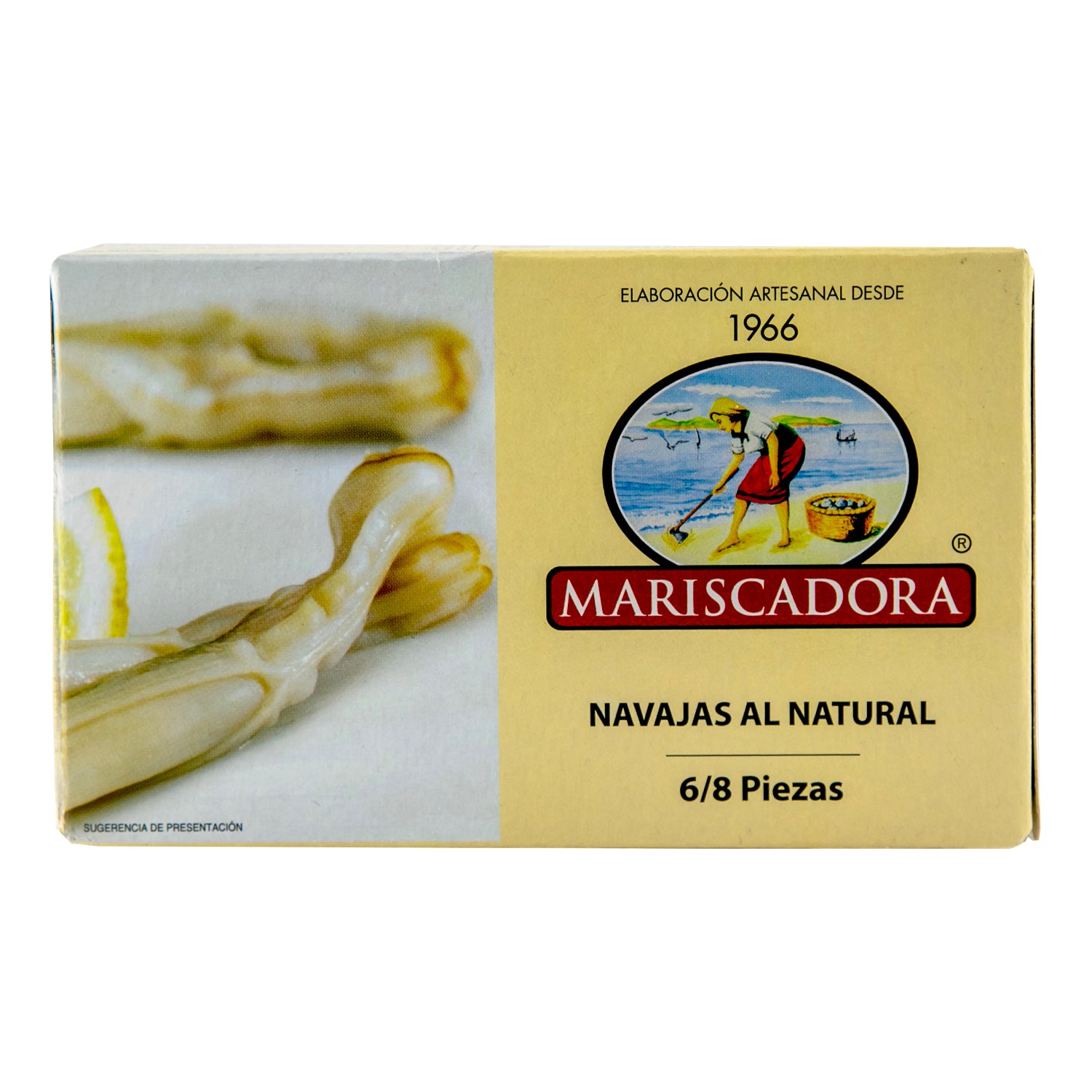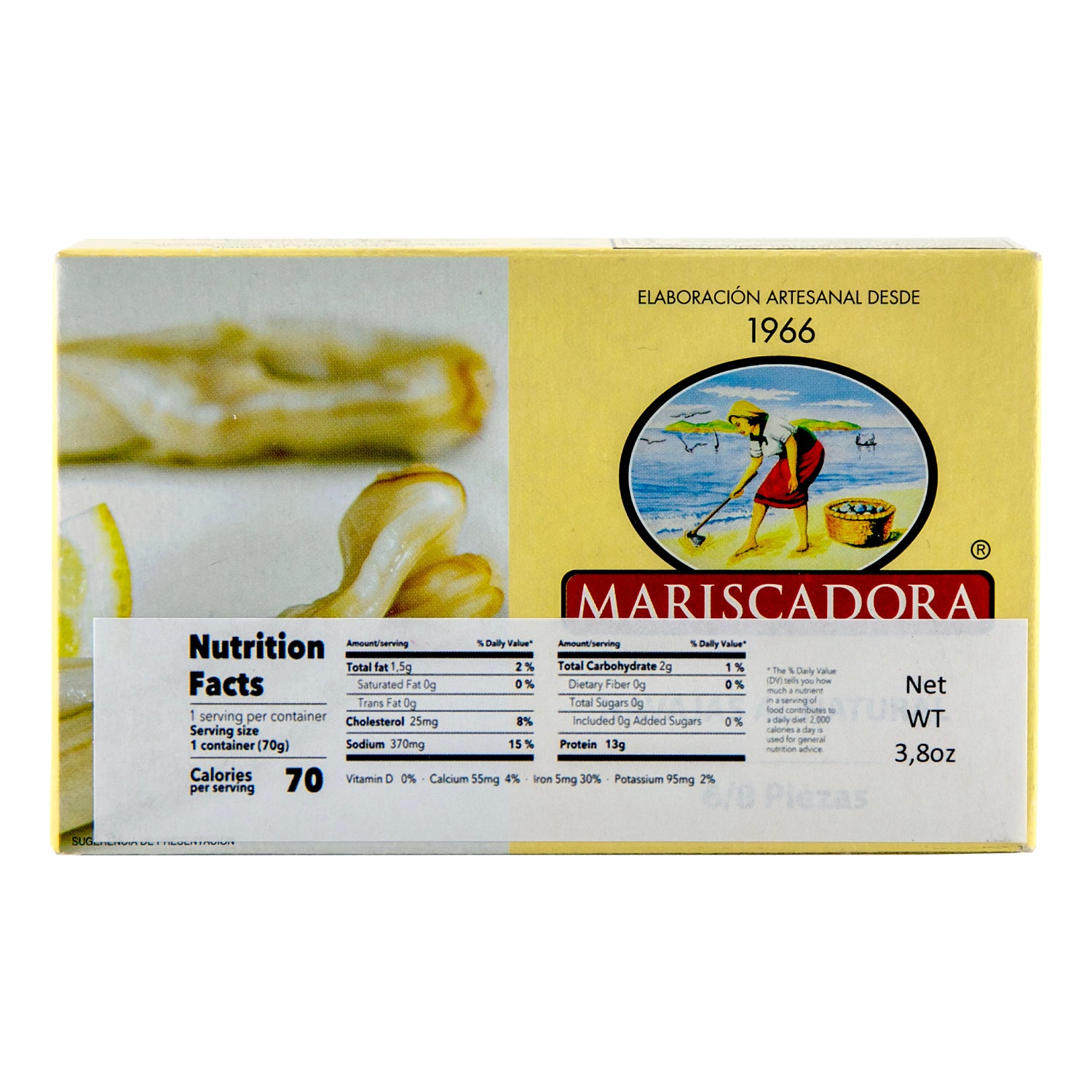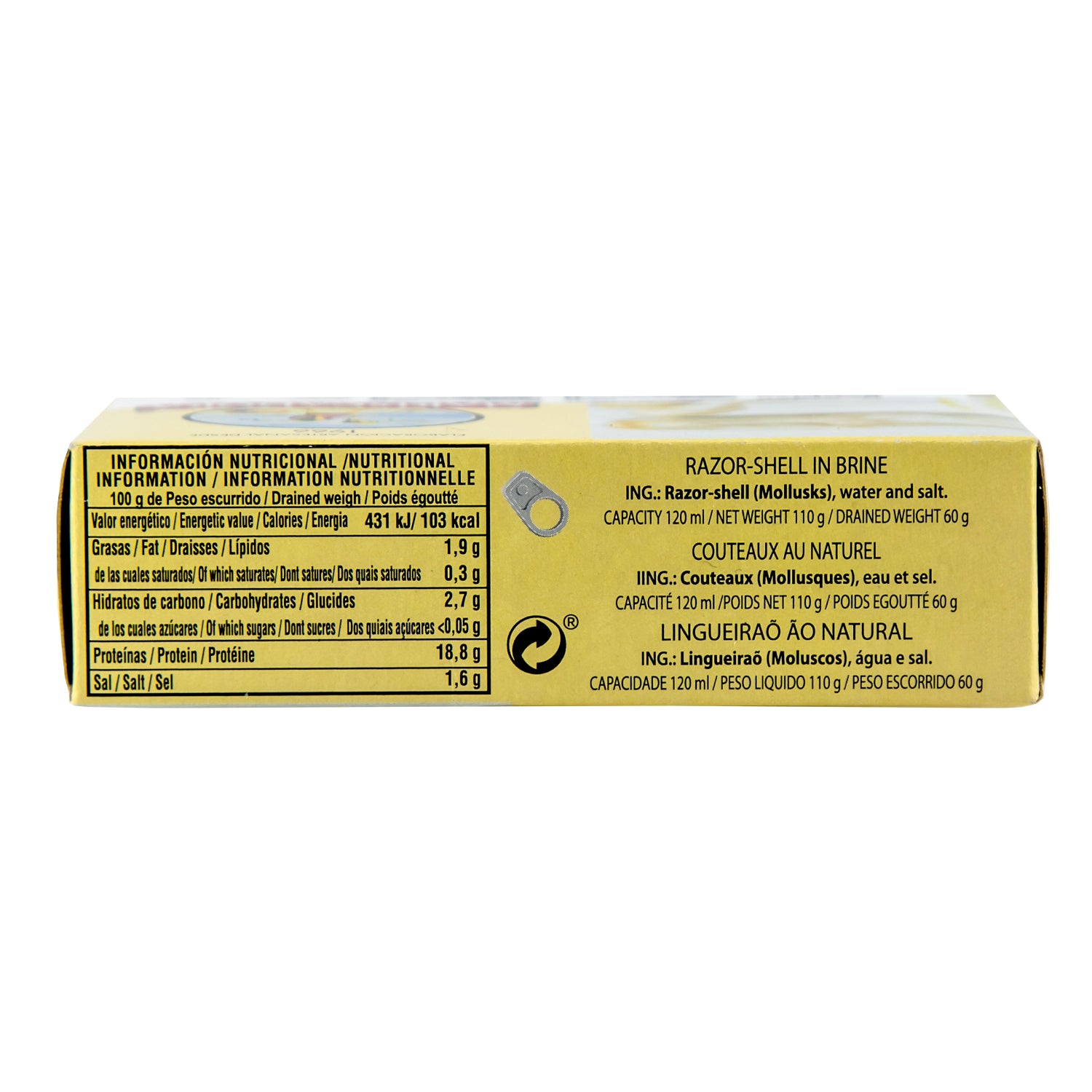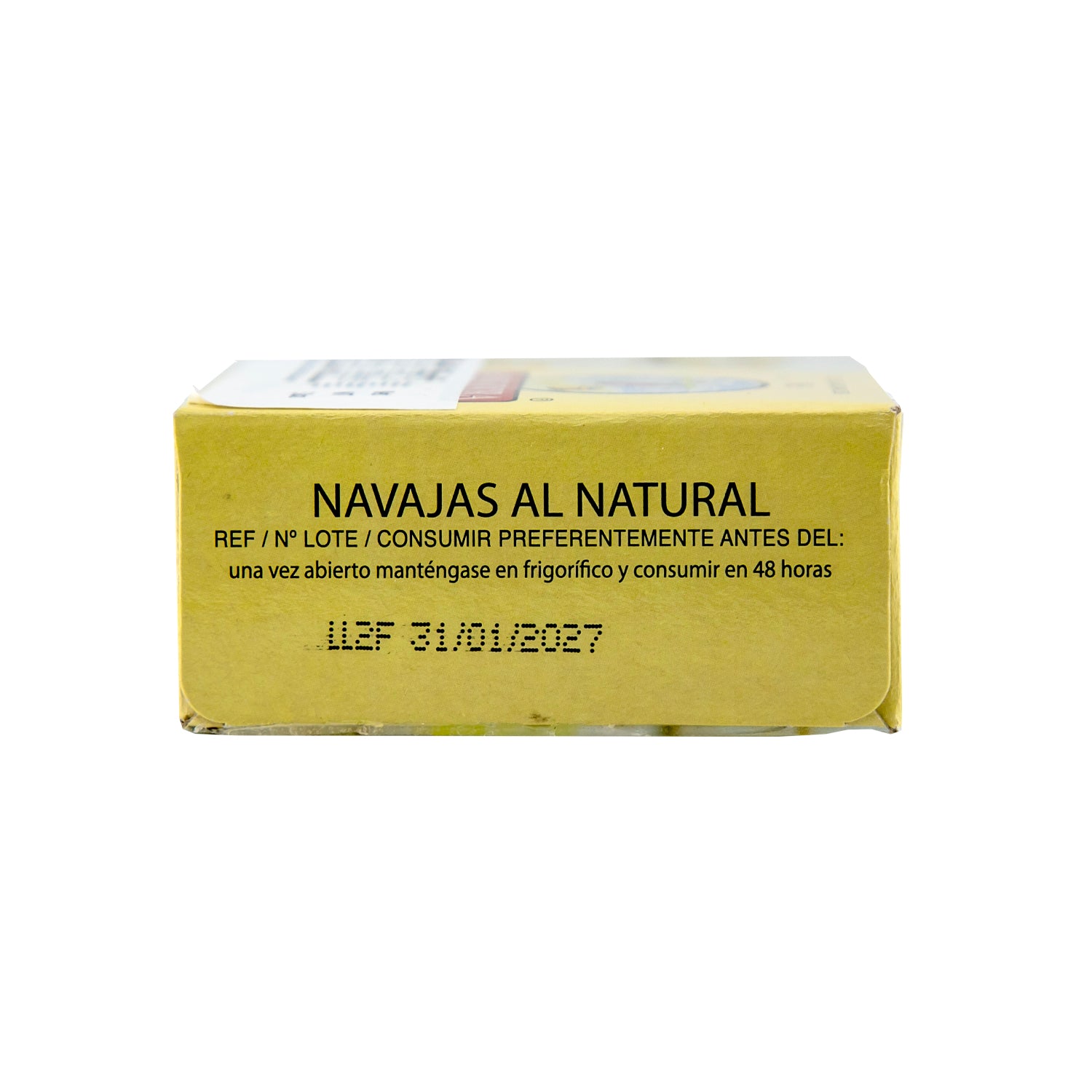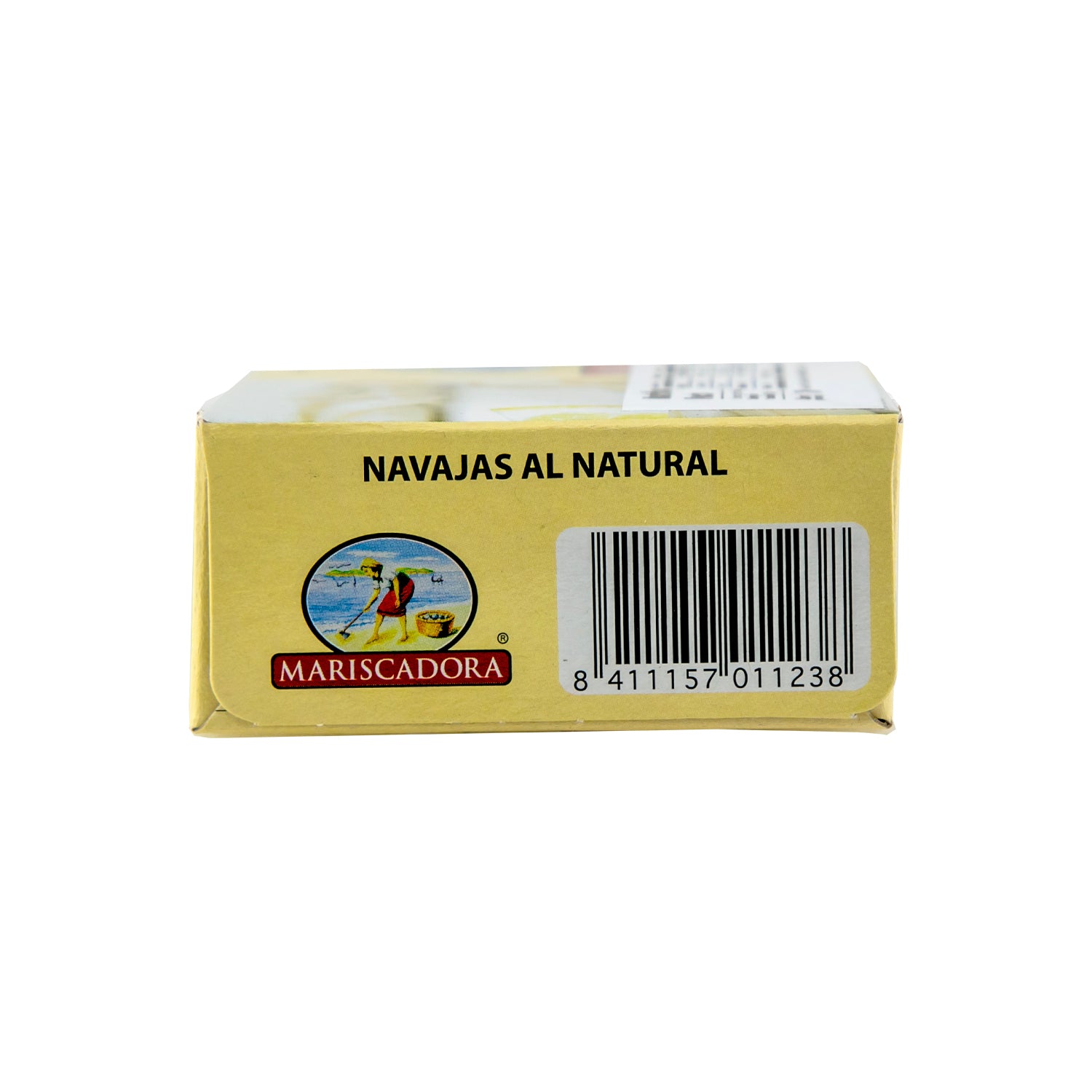 Mariscadora razor clams (Navajas) from Galicia are a popular member of the shellfish family, along with clams and cockles. Each is carefully selected for size and cleaned to remove sand, followed by up to six rounds of washing. After boiling, the clams are placed in brine, purified seawater to complete this exquisite sea food preserve.
Product: Razor Clams
Origin: Galicia Spain (Hand Packed)
Ingredients: Razor-shell (Mollusks), water and salt.
Recommended use: Salads, as a tapa, and as an everyday healthy snack
Size: 110 gr (3.8 oz) Easy Open Can
The Razor Clam Story:
Razor clams are a delicacy that are canned for culinary consumption. They are harvested from the Galician Rías Gallegas, which are cool waters in Galicia, Spain. The canned razor clams are preserved in natural brine to mimic the sea. The Galician Rías Gallegas are known for producing the best mussels in the peninsula, and the canned version of these mussels has a soft and velvety texture.
Razor clams are a species of clam that are found in surf-swept and somewhat protected sand beaches of the open ocean. They are found in North America and have been imported to Europe, where they are now established. Commercial harvest of razor clams has occurred in Alaska since 1916 in the Cordova area and 1919 in the Cook Inlet area. Annual production levels have fluctuated greatly in both areas, reaching approximately 600,000 pounds in Cordova and 500,000 pounds in Cook Inlet.
Cooking Razor Clams:
Razor clams are a popular seafood in Galicia, Spain, and there are several traditional ways to cook them. Here are some examples:
- Navajas a la plancha (grilled razor clams): Warm a little olive oil in a frying pan, when this hot add the razor clams. Let the shells open, then turn them. After five minutes plate them up and sprinkle on a little chopped parsley.
- Grilled Galician razor clams with garlic and parsley: These razor clams can be grilled and seasoned with garlic and parsley.
- Razor Clams Galician Style: This is a fantastic dish for a starter, really quick and delicious. The razor clams are cooked in a pan with virgin olive oil and garlic.
- Canned Razor Clams in Natural Sauce: Razor clams from the Galician Rías Gallegas are cooked and paired with natural broth. They are canned in natural sauce to preserve their flavor

Disclaimer
Khayyan Specialty Foods, ZONA Food Market, Khayyan LLC and all its affiliates and partners make every effort to ensure that the product information provided on this e-commerce website and all packaging is current and accurate. Manufacturers do occasionally change their ingredient lists without prior notice. Information regarding product packaging and materials may differ or be more comprehensive than what is displayed on our website and packaging. We advise you to read labels, cautions, and instructions before using or consuming a product and not to rely solely on the provided information, including but not limited to the product description, country of origin, nutrition, ingredients, allergens, and other details. If you require further information, please contact us at www.khayyan.com.
Khayyan LLC, the owner of this e-commerce website, disclaims any and all responsibility for inaccuracies, omissions or misstatements on the product labels and throughout product descriptions found on this e-commerce website.
Share: