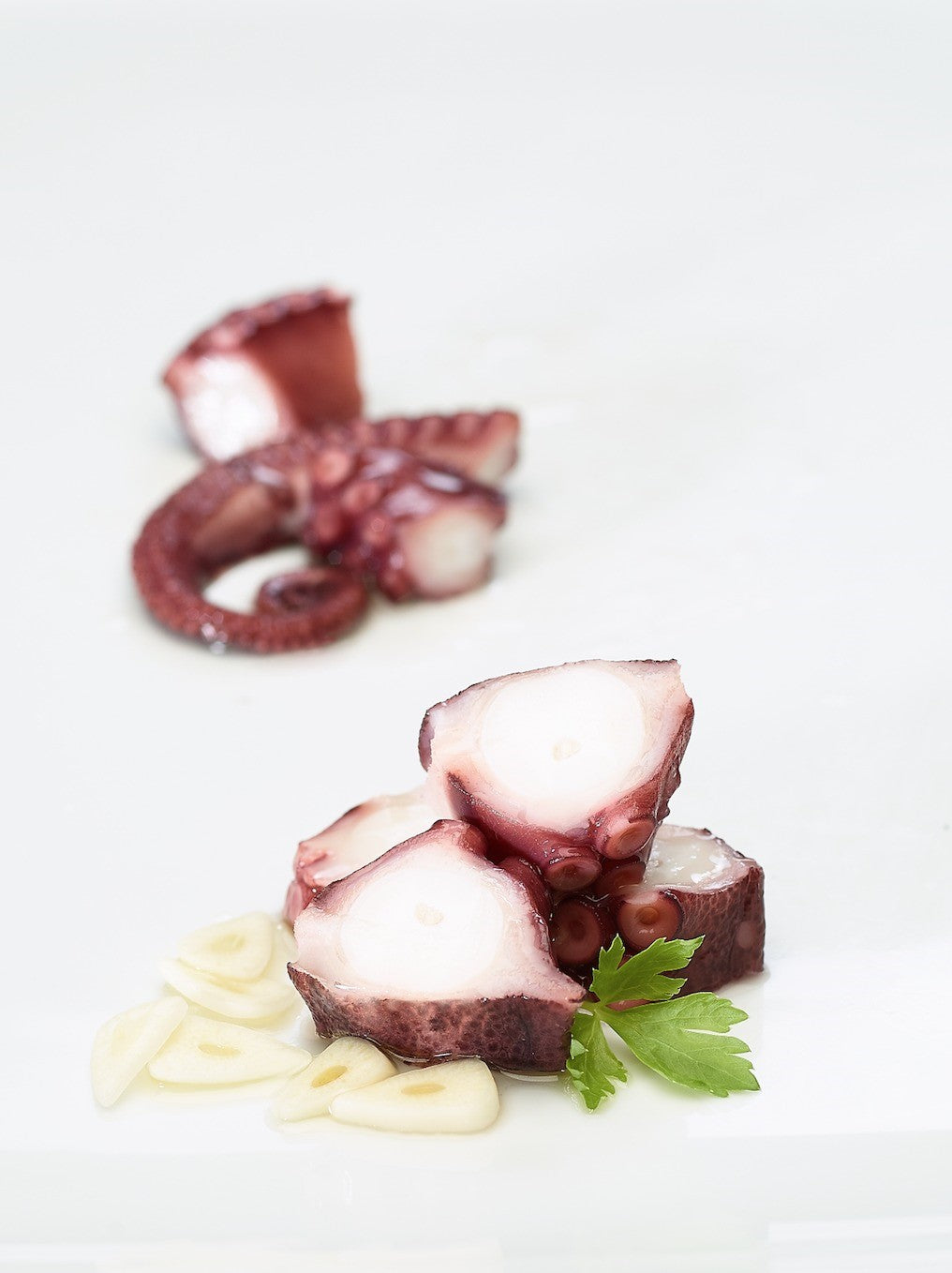 Mariscadora Octopus in Marine sauce is a fresh, premium seafood dish that features succulent octopus in a flavorful marine sauce. High in protein and omega-3 fatty acids, it is an ideal meal choice for health-conscious seafood aficionados. Enjoy its rich flavor and savory aroma, perfect for any occasion.
Product: Mariscadora Octopus in Marine sauce

Origin: Galicia Spain (Hand Packed)
Ingredients: octopus, sunflower oil, and salt
Recommended use:

carpaccio

, ceviche, and risotto

Size: 110 gr (3.8 oz) Easy Open Can
About Octopus in Marine sauce:
Octopus in marine sauce may have evolved as a variation of traditional octopus dishes, incorporating different flavors and ingredients. The sauce adds a tangy and aromatic element to the dish, complementing the natural taste of the octopus. This makes octopus in marine sauce a delicious and flavorful seafood dish that showcases the culinary traditions of Spain, particularly in the coastal regions where seafood is abundant.
How to serve Mariscadora Octopus in Marine sauce:
With crusty bread: Serve the octopus with garlic sauce with hunks of crusty bread for dipping and soaking up the flavorful sauce

.

Over pasta: Serve the octopus in tomato sauce over cooked spaghetti, ravioli, or other pasta. Sprinkle with freshly grated Parmigiano Reggiano cheese

.

Grilled: Drizzle the octopus with olive oil and lemon juice, sprinkle with red onions and flat leaf parsley, and serve with additional lemon wedges

.

With boiled potatoes: Serve the octopus with herb vinaigrette sauce alongside boiled potatoes, which love the herbaceous sauce

.

As part of a seafood platter: Serve the Mariscadora Octopus in Marine sauce as part of a seafood platter that includes other seafood delicacies like fried Galician mussels, stuffed squid in ink sauce, and small sardines in olive oil.
Disclaimer
Khayyan Specialty Foods, ZONA Food Market, Khayyan LLC and all its affiliates and partners make every effort to ensure that the product information provided on this e-commerce website and all packaging is current and accurate. Manufacturers do occasionally change their ingredient lists without prior notice. Information regarding product packaging and materials may differ or be more comprehensive than what is displayed on our website and packaging. We advise you to read labels, cautions, and instructions before using or consuming a product and not to rely solely on the provided information, including but not limited to the product description, country of origin, nutrition, ingredients, allergens, and other details. If you require further information, please contact us at www.khayyan.com.
Khayyan LLC, the owner of this e-commerce website, disclaims any and all responsibility for inaccuracies, omissions or misstatements on the product labels and throughout product descriptions found on this e-commerce website.
Share: