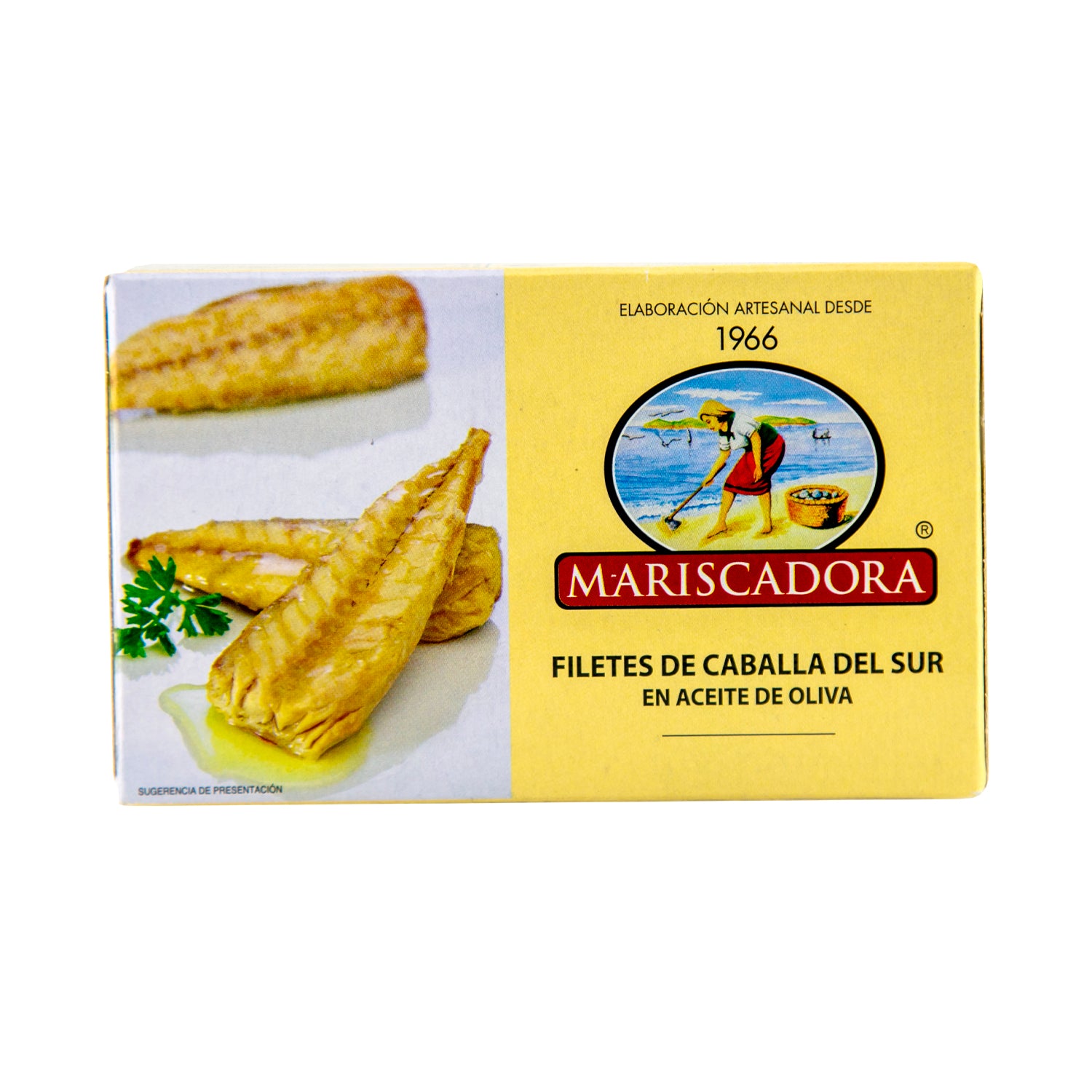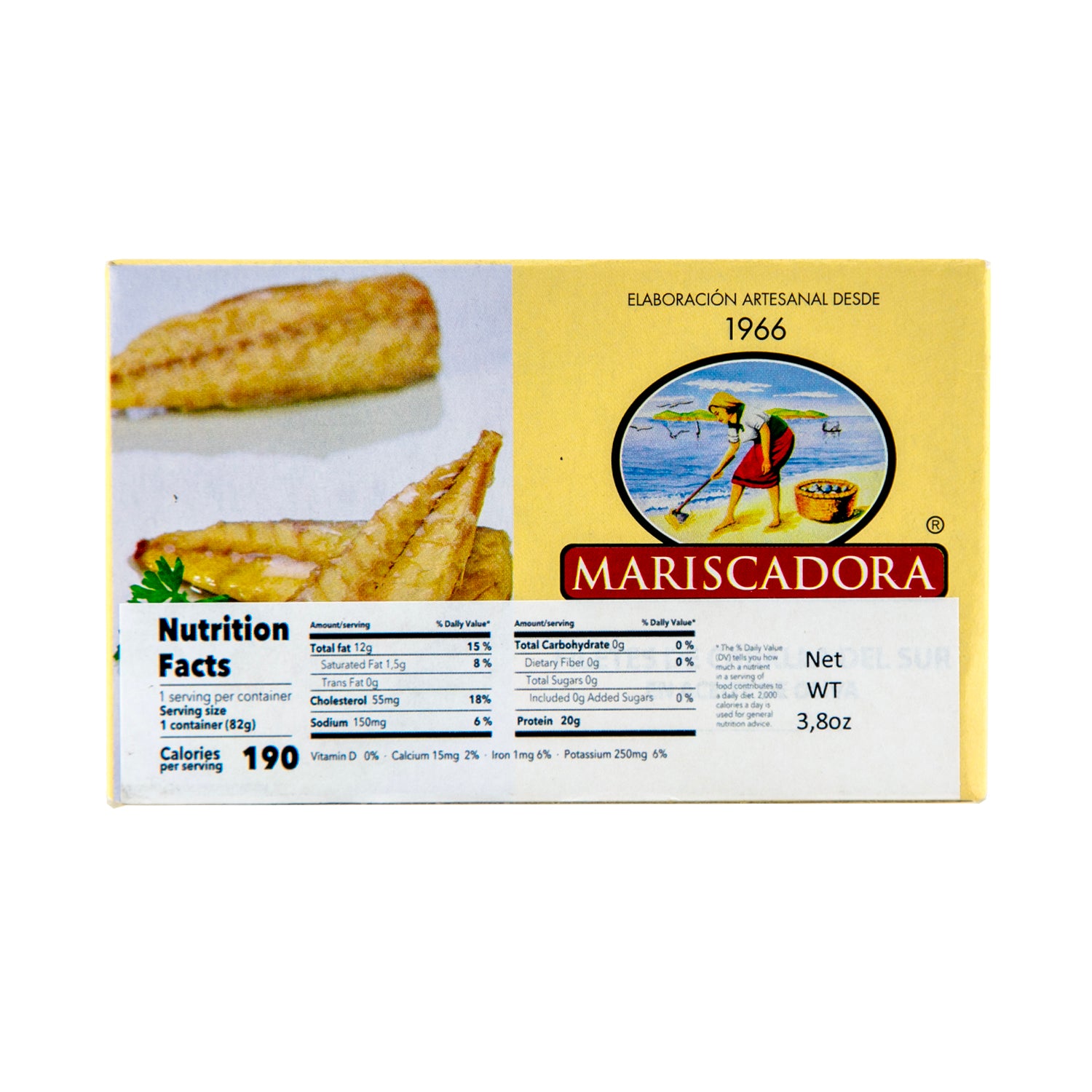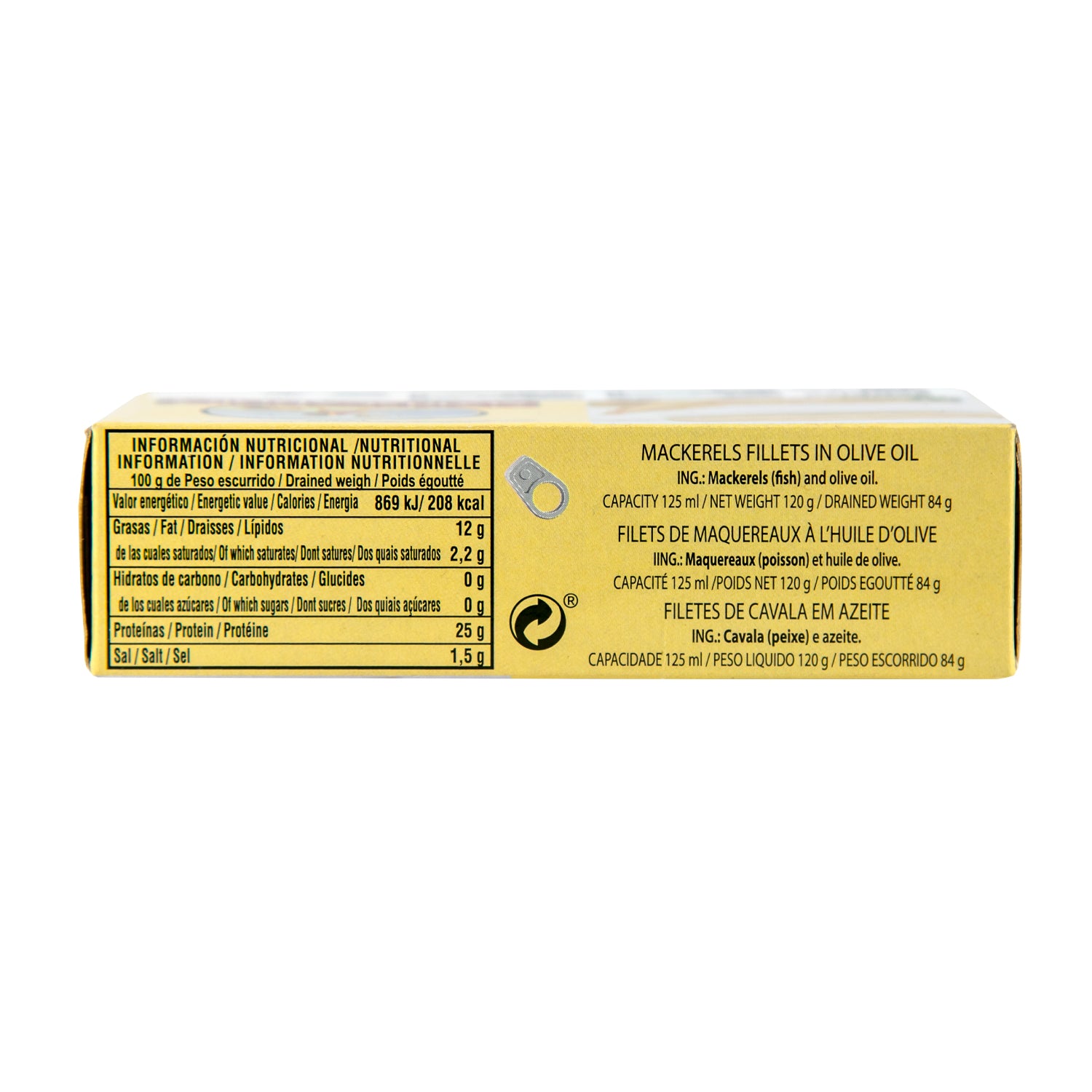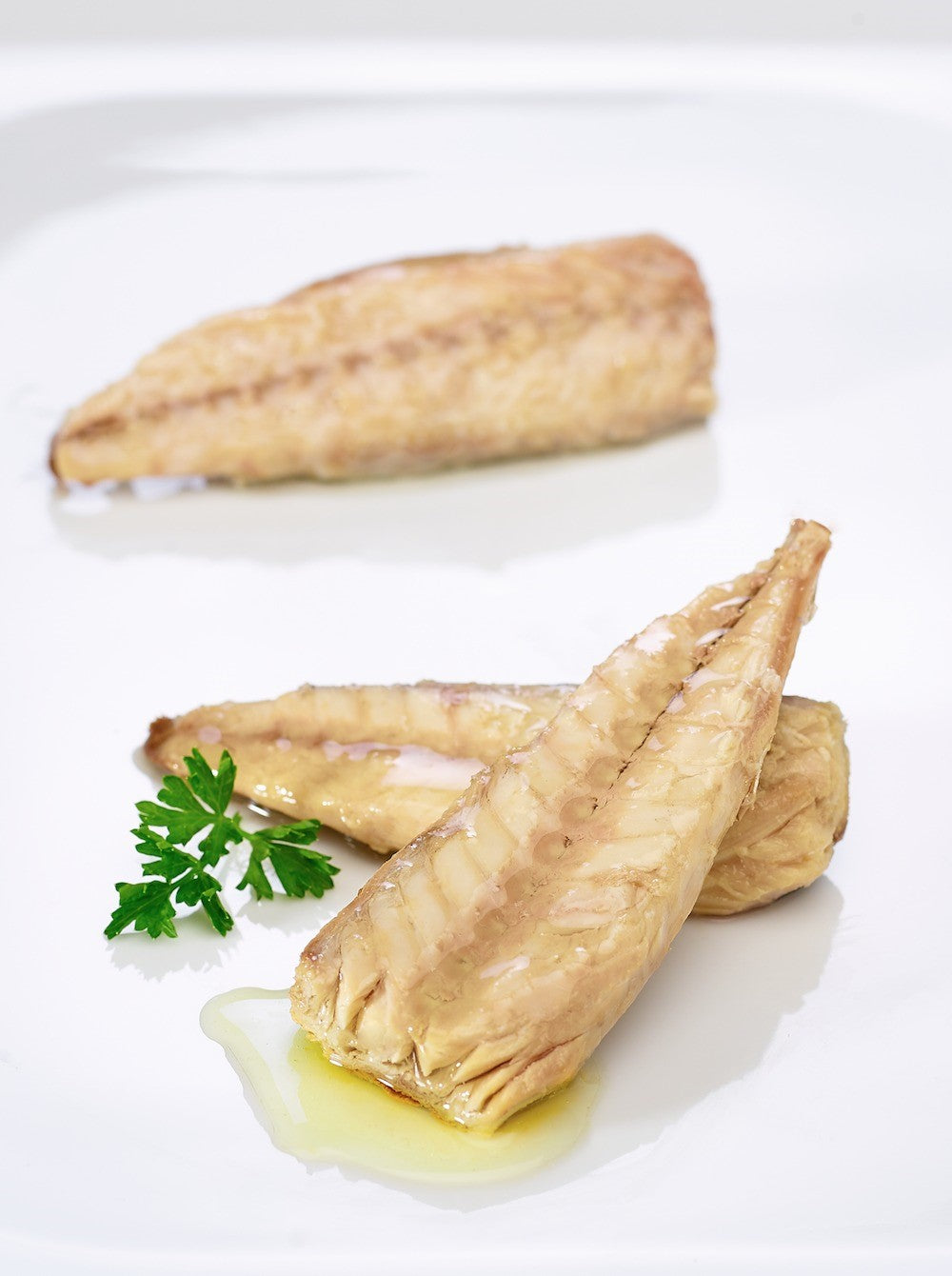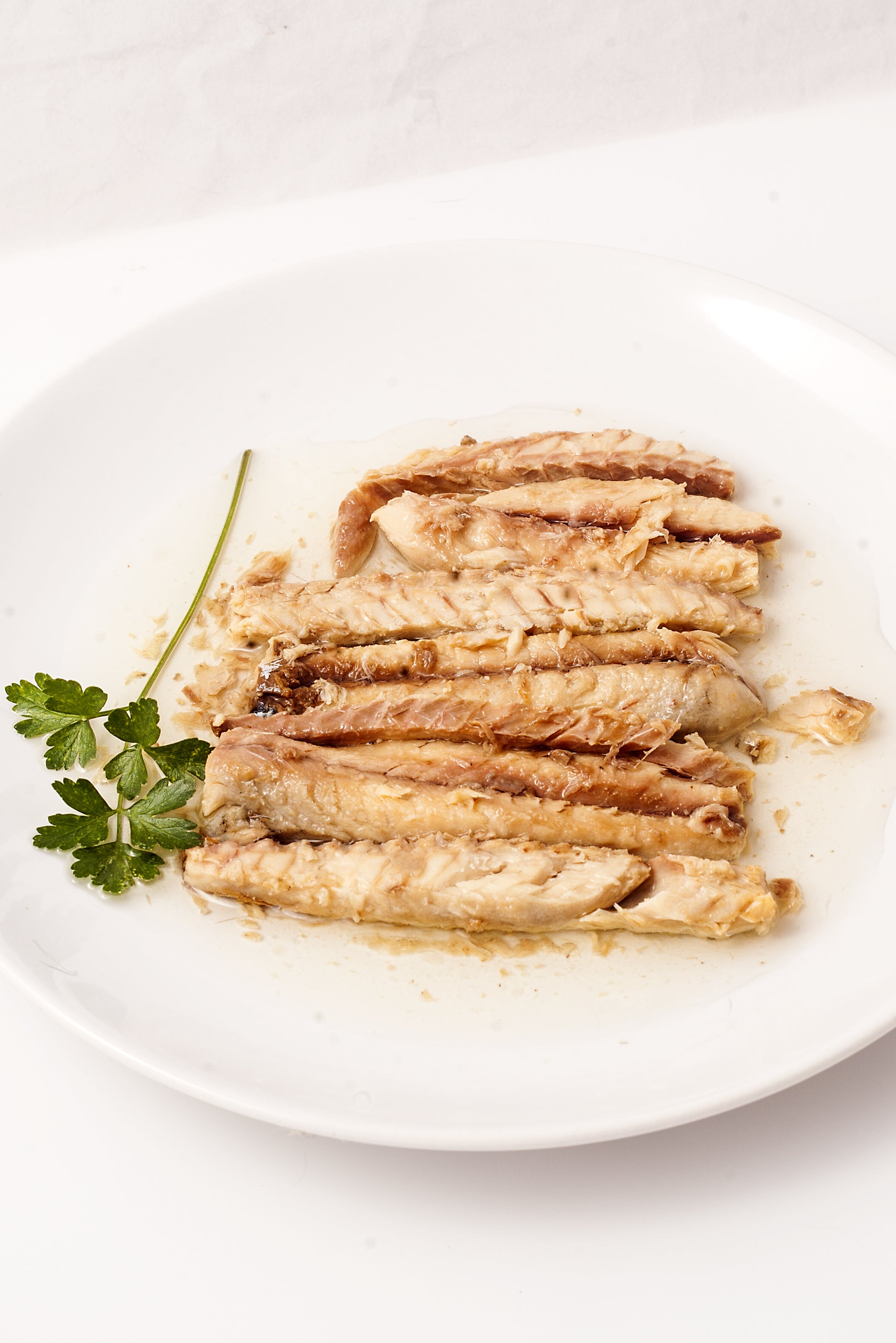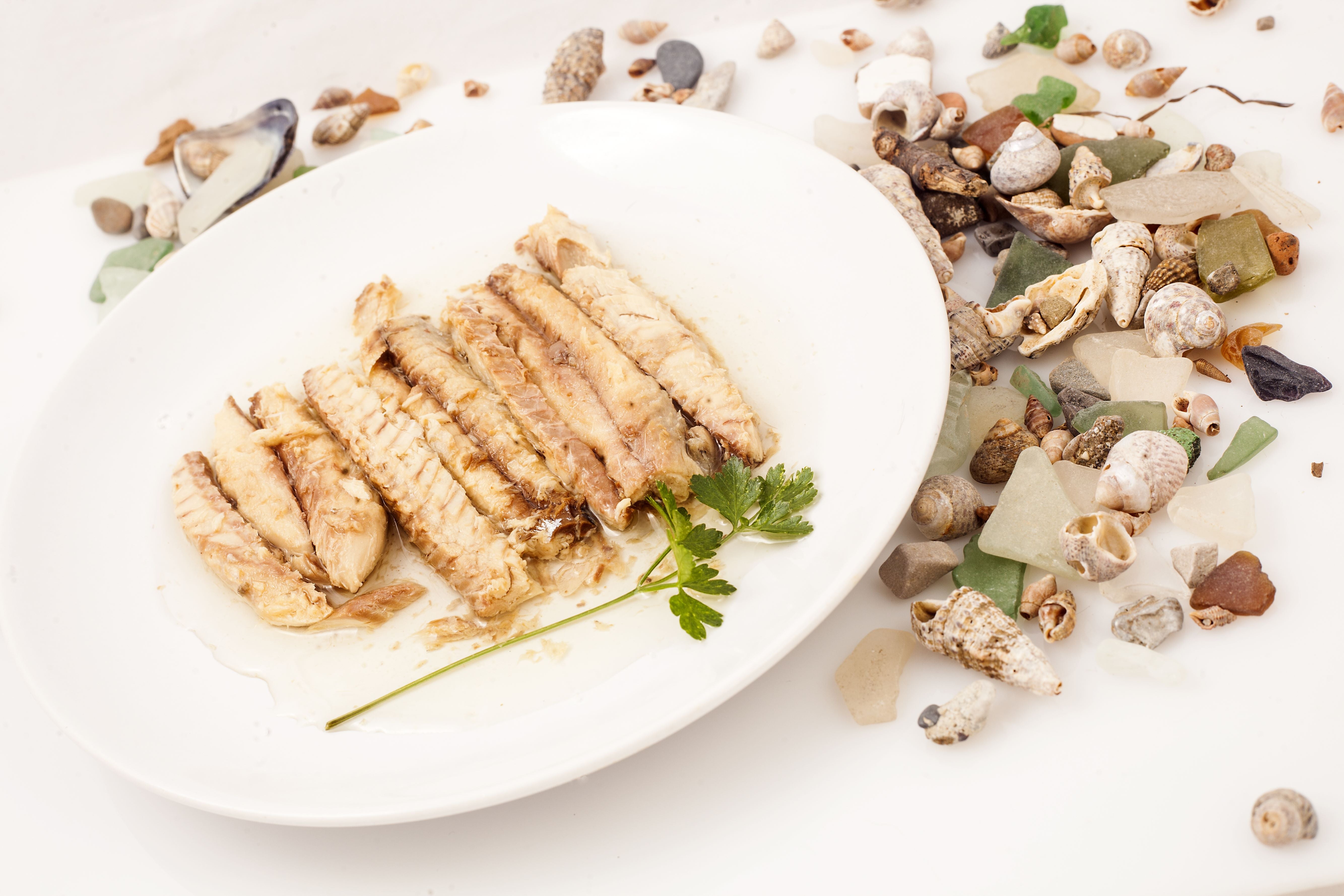 Mariscadora Mackarel (Filets) in Olive oil is an excellent source of omega fatty acids and protein. Prepared in olive oil for added flavor and health benefits, these filets are sodium-free and a perfect addition to any meal.
Product: Mackarel (Filets) in Olive oil

Origin: Galicia Spain (Hand Packed)
Ingredients: Mackarels (fish) and olive oil
Recommended use: As a tapa, in a salad, sandwich, main course
Size: 120 gr (3.8 oz) Easy Open Can
About Mackarel (Filets) in Olive oil:
The dish is popular in Spain, and it is prepared by hand and packed in olive oil. The dish is made by cleaning and deboning the mackerel fillets, which are then preserved in Spanish olive oil, giving them a rich and round flavor. The dish is also prepared and packed by hand in Galicia, Spain, using the traditional method. The mackerel fillets are served on toast or with a salad. Additionally, Mackerel in olive oil is a nutritious and healthy food that offers several health benefits. Some of these include that it is: High in Omega-3 fatty acids, lowers LDL cholesterol, reduces inflammation, etc.
Ways to serve Mariscadora Mackarel (Filets) in Olive oil:
On top of a salad: Flake the mackerel fillets into bite-sized pieces and scatter them over a bed of greens. Drizzle some of the olive oil from the can over the salad as a dressing.

With crackers or bread: Serve the mackerel fillets on a platter with crackers or slices of crusty bread. Guests can help themselves to the fish and use the bread or crackers to scoop it up.

In a sandwich: Spread some mayonnaise or mustard on a slice of bread, then add a layer of mackerel fillets. Top with lettuce, tomato, and any other sandwich fixings you like.

As a topping for pizza: Add mackerel fillets to a homemade or store-bought pizza. They pair well with other Mediterranean flavors like olives, artichokes, and roasted red peppers.

Mixed into pasta: Cook some pasta and toss it with the mackerel fillets, some of the olive oil from the can, and other ingredients like cherry tomatoes, capers, and fresh herbs.
Disclaimer
Khayyan Specialty Foods, ZONA Food Market, Khayyan LLC and all its affiliates and partners make every effort to ensure that the product information provided on this e-commerce website and all packaging is current and accurate. Manufacturers do occasionally change their ingredient lists without prior notice. Information regarding product packaging and materials may differ or be more comprehensive than what is displayed on our website and packaging. We advise you to read labels, cautions, and instructions before using or consuming a product and not to rely solely on the provided information, including but not limited to the product description, country of origin, nutrition, ingredients, allergens, and other details. If you require further information, please contact us at www.khayyan.com.
Khayyan LLC, the owner of this e-commerce website, disclaims any and all responsibility for inaccuracies, omissions or misstatements on the product labels and throughout product descriptions found on this e-commerce website.
Share: