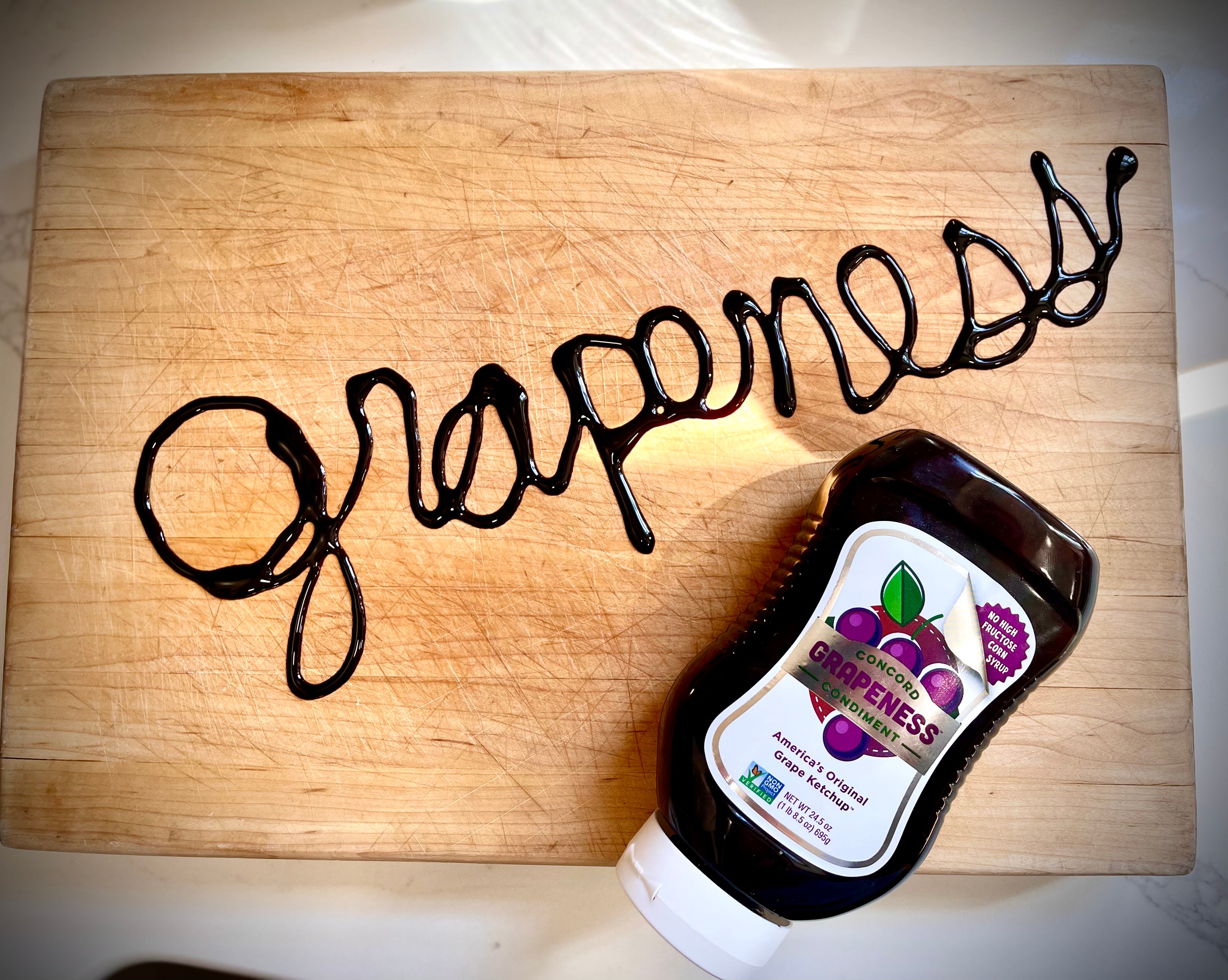 America's First Grape Ketchup. This versatile condiment pairs well with virtually anything.  Grapeness consists of the finest Concord grapes and Balsamic Vinegar of Modena, Italy. 
Isn't it time grapes play a little ketchup!
Grapeness does not contain high fructose corn syrup and is Non-GMO Project Verified. 
Origin: USA Product and Manufacture 
Grape Varietal: Concord Grape
Ingredients: NO ADDED SUGAR – SALT FREE – NO ARTIFICIAL FLAVORS OR INGREDIENTS Concentrated Grape Must, Wine Vinegar, Concord Grape, Juice Concentrate, Grapeseed Oil, Corn Starch, Caramel Color
Flavor Profile: Sweet and Tangy
Recommended Use: Grapeness goes great with chicken nuggets, fries and even pizza. Drizzle Grapeness on anything from a salad to scrambled eggs. The grape-abilities are endless.
Size: Net Wt 24.5oz (1lb 8.5oz) 695g
Created and Manufactured by American Grape Faction, LLC  
Disclaimer
Khayyan Specialty Foods, ZONA Food Market, Khayyan LLC and all its affiliates and partners make every effort to ensure that the product information provided on this e-commerce website and all packaging is current and accurate. Manufacturers do occasionally change their ingredient lists without prior notice. Information regarding product packaging and materials may differ or be more comprehensive than what is displayed on our website and packaging. We advise you to read labels, cautions, and instructions before using or consuming a product and not to rely solely on the provided information, including but not limited to the product description, country of origin, nutrition, ingredients, allergens, and other details. If you require further information, please contact us at www.khayyan.com.
Khayyan LLC, the owner of this e-commerce website, disclaims any and all responsibility for inaccuracies, omissions or misstatements on the product labels and throughout product descriptions found on this e-commerce website.

Share: