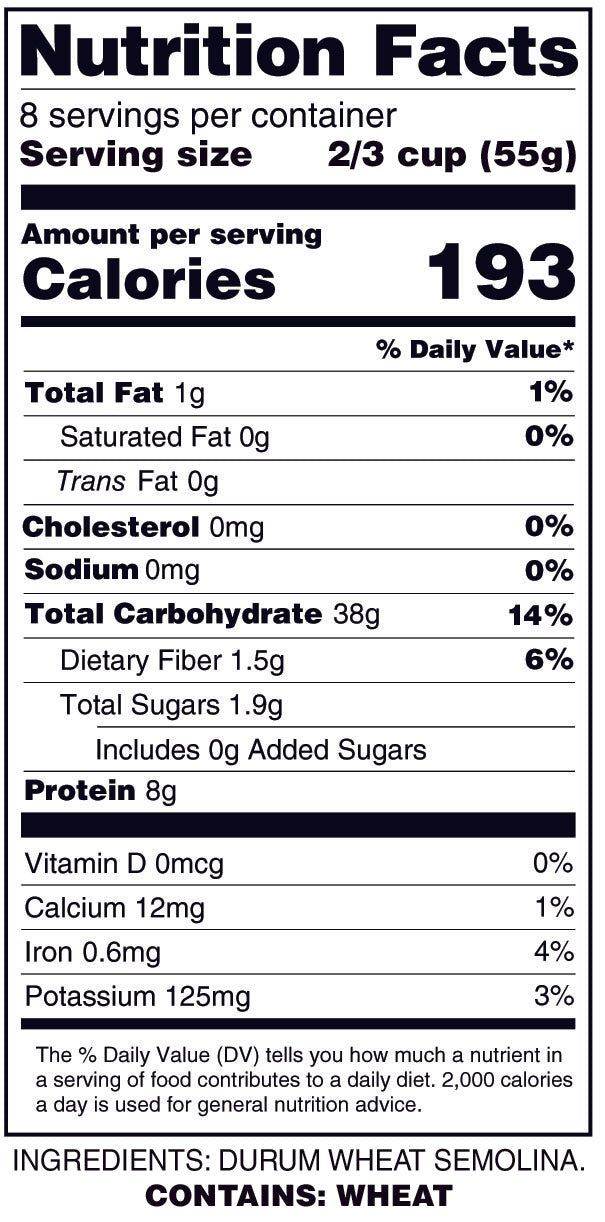 Paone 1878 Bucatini pasta is a long pasta noodle with a hollow center made from 100% Italian S1 Riserva durum wheat semolina producing an exquisite flavorful pasta with 14 grams of protein.

Domenico Paone, in 1878, shortly after the union of the Kingdom of Italy, built an artisan workshop for the production of bread and pasta and a steam mill in Formia (Italy), together with a fleet of motorsailers for the supply of wheat from the ports of southern Italy. In 1928 he built a square at his own expense to defend the coast, donating it to the city of Formia. After two years, he was made a Knight of Labor. Four more generations of master pasta makers have carried on the tradition of premium pasta making. Today, on the world scene, the Paone pasta factory is one of the oldest and most qualified Italian pasta company. The superior quality Paone pasta line is dedicated to him and to white art and, more generally, to the art told by the unique monuments and wonderful cities of our country.
Origin: Formia. Italy
Varietal: Bucatini
Ingredients: 100% Italian Durum Wheat Semolina Pasta S1 Reserve 14 grams Protein
Size: 500 gr (1.1 lbs)
Nutritional Attribute: 

100 gram portion contains an average of 14 grams of vegetable protein and 70 grams of carbohydrate, approx. 1/4 of the daily recommended intake

Cooking Time: 6 min. Suggested Al Dente
Pairing: t

he empty center absorbs creamy, rich carbonara and alfredo, and picks up all of the flavor of bolognese and amatriciana sauces.
The Art On The Packaging:
Bernini's Apollo and Daphne
This marble masterpiece by the famous Neapolitan sculptor Giovan Lorenzo Bernini was finished in 1625. It draws its inspiration from the tale of Apollo and Daphne from Ovid's Metamorphoses, capturing the climax of the story when Apollo catches Daphne. Before he has the chance to do more than touch her with his hand, she has already begun her metamorphosis into a laurel oak. This masterpiece uses alternating full and empty spaces and plays with light and shade to create a highly dynamic scene, drawing the observer completely into this intensely emotional drama. The surface of the marble has been rough hewn where it forms the bark, while it is perfectly smooth on the skin of the two protagonists; in contrast, the rocks emerge as a bare outline.
©
 

Scala Archives, Florence
With permission from the Italian Ministry
of Cultural Heritage and Activities.

 


Disclaimer

Khayyan Specialty Foods, ZONA Food Market, Khayyan LLC and all its affiliates and partners make every effort to ensure that the product information provided on this e-commerce website and all packaging is current and accurate. Manufacturers do occasionally change their ingredient lists without prior notice. Information regarding product packaging and materials may differ or be more comprehensive than what is displayed on our website and packaging. We advise you to read labels, cautions, and instructions before using or consuming a product and not to rely solely on the provided information, including but not limited to the product description, country of origin, nutrition, ingredients, allergens, and other details. If you require further information, please contact us at www.khayyan.com.

Khayyan LLC, the owner of this e-commerce website, disclaims any and all responsibility for inaccuracies, omissions or misstatements on the product labels and throughout product descriptions found on this e-commerce website.
Share: