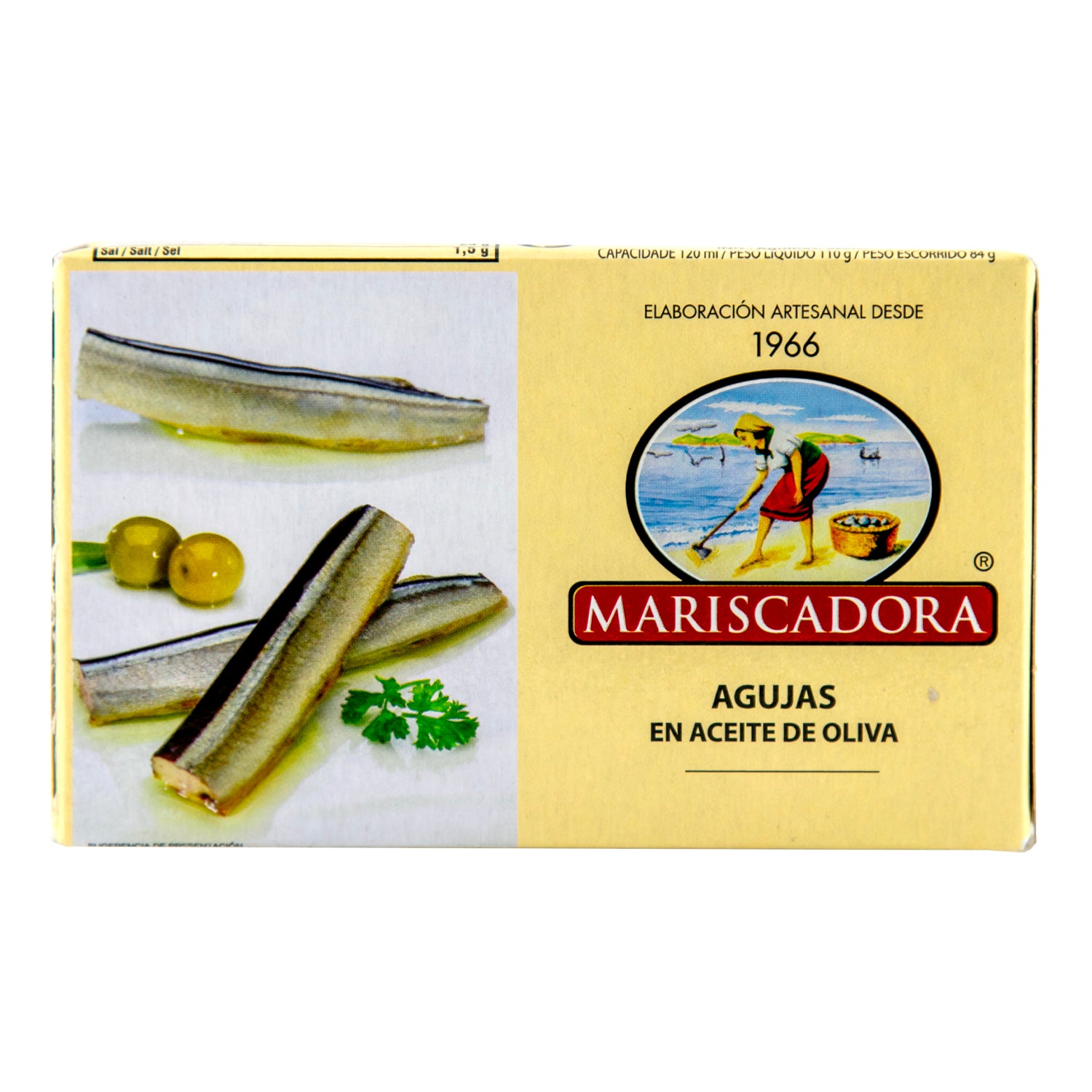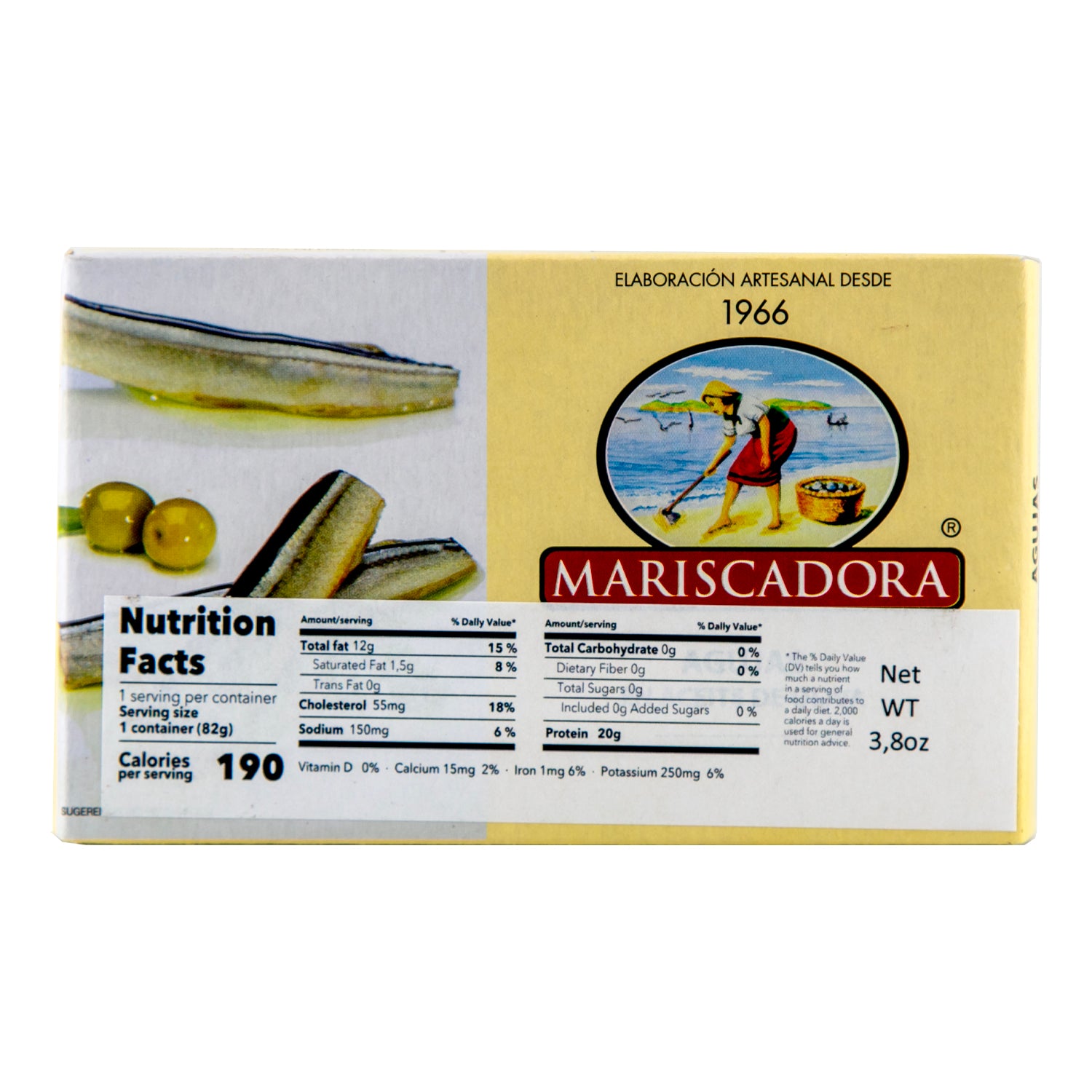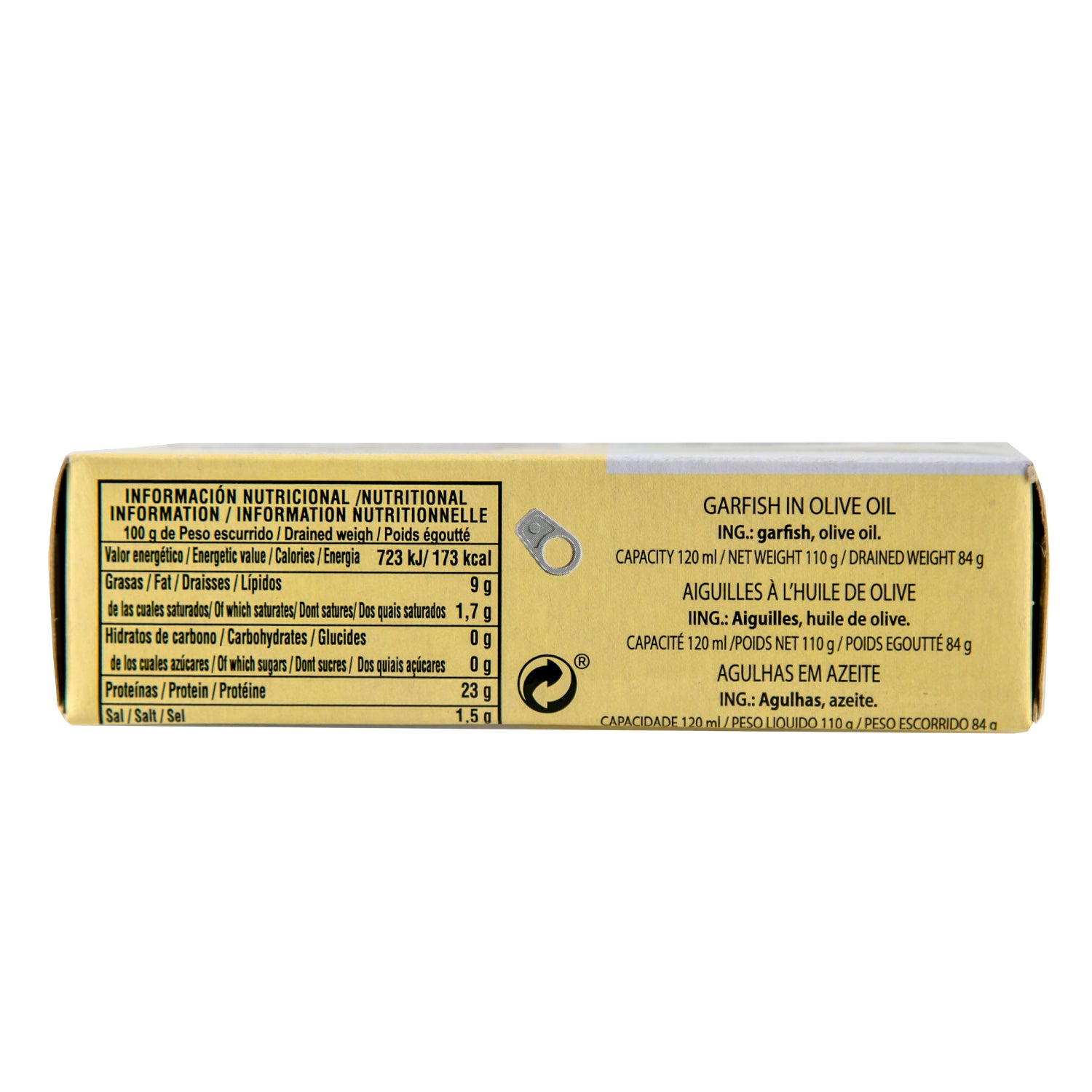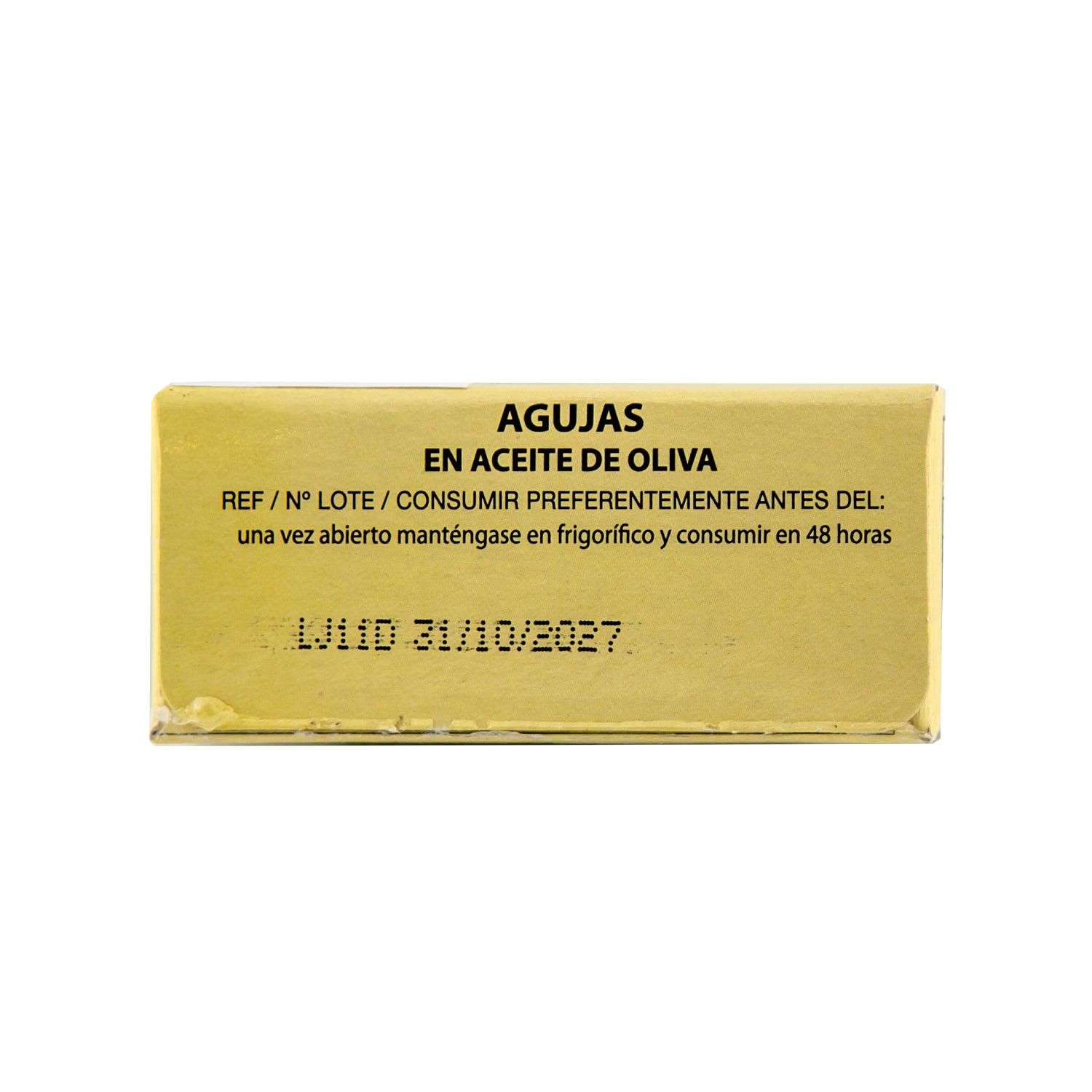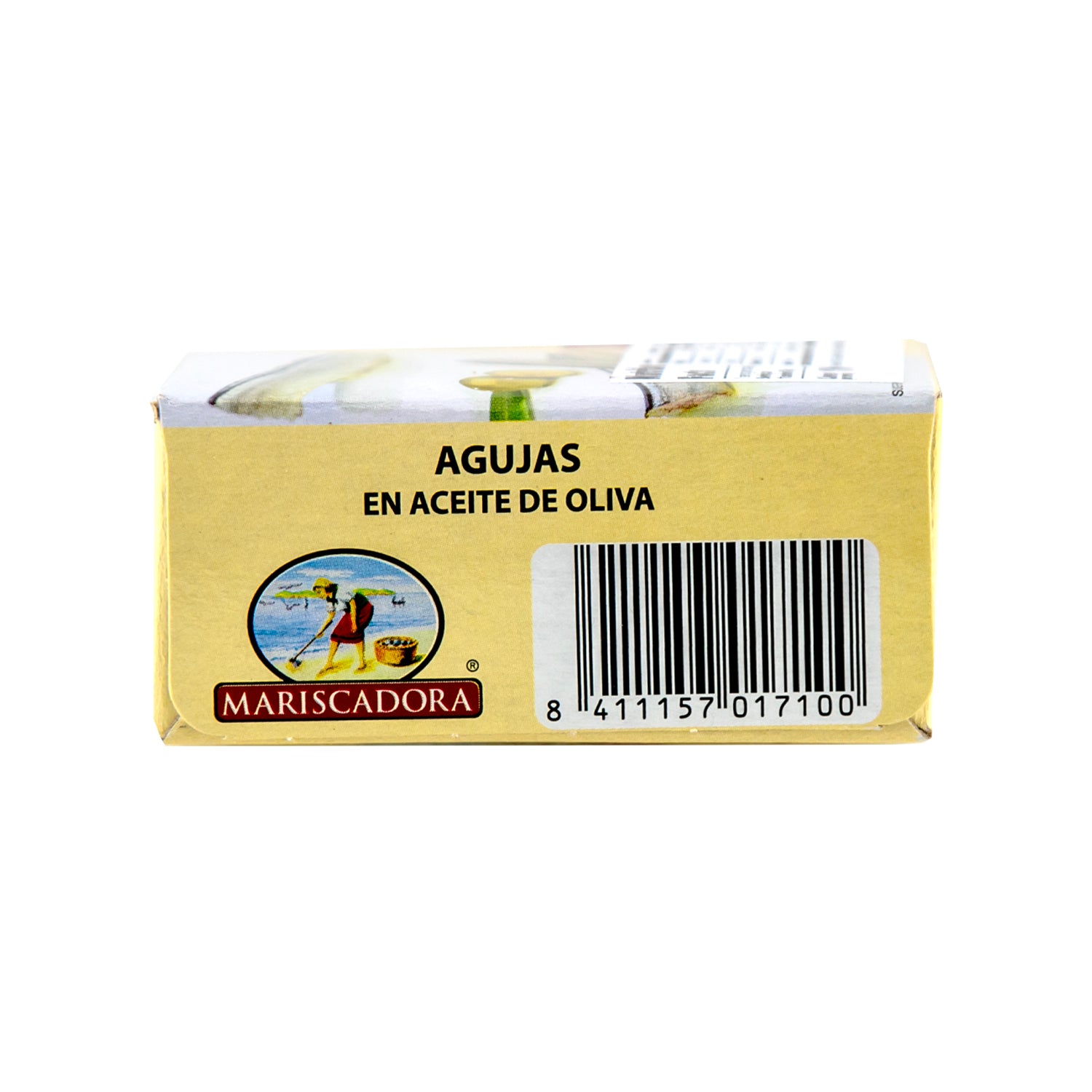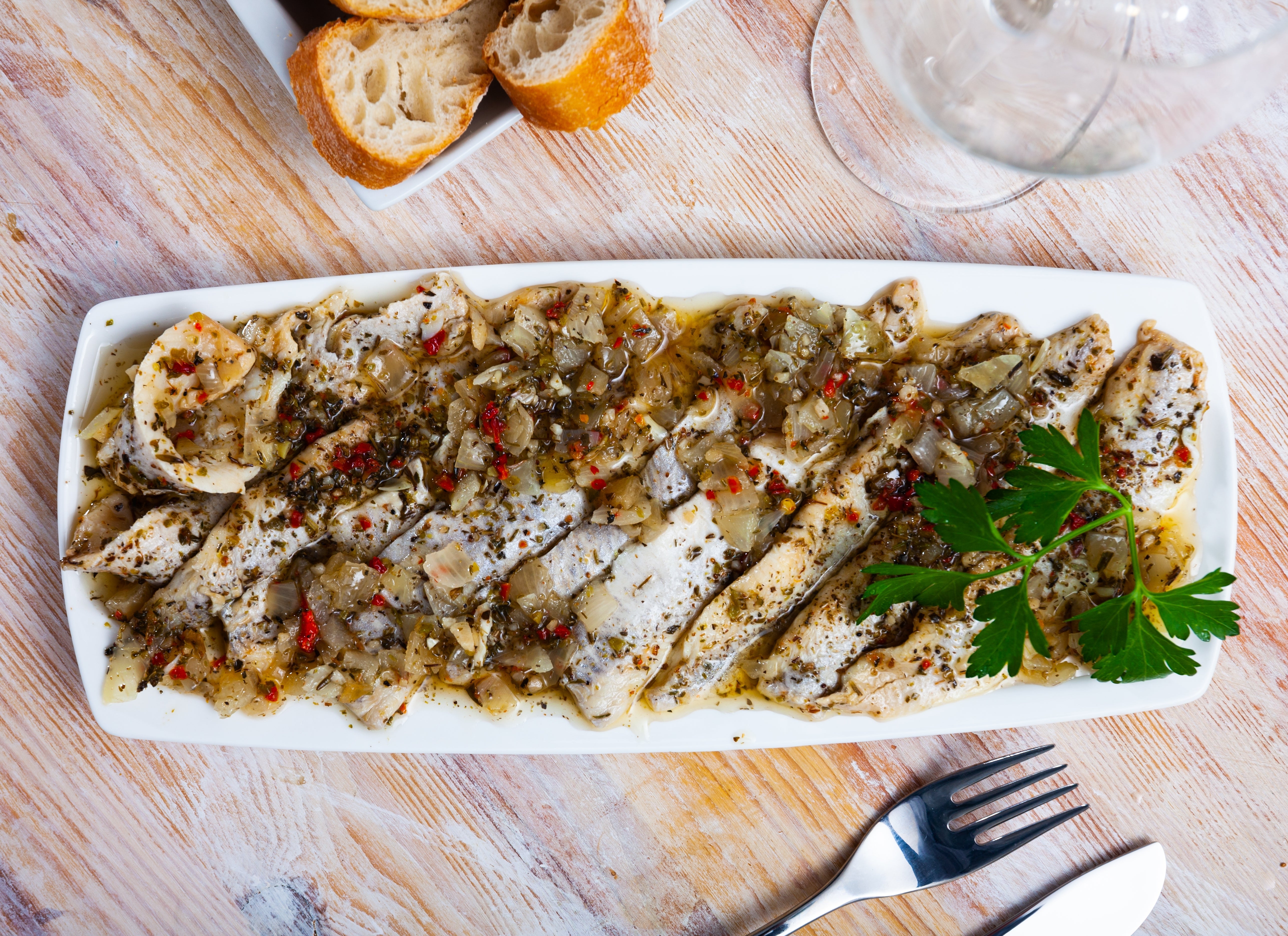 Mariscadora Garfish in olive oil is a delicious option for seafood lovers. This gourmet fish is sustainably caught and prepared in high-quality olive oil, offering a rich source of healthy fats. Enjoy the unmistakable flavor of this premium delicacy and get your omega-3s in one delicious dish.
Product: Mariscadora Garfish in olive oil

Origin: Galicia Spain (Hand Packed)
Ingredients: garfish, olive oil
Recommended use: tapa, pasta, crostini, salad, pizza
Size: 110 gr (3.8 oz) Easy Open Can
About Garfish in Olive oil:
Garfish in olive oil is a traditional Spanish delicacy that has been enjoyed for centuries. The garfish is caught in the wild in the Cantabrian Sea, which is located off the northern coast of Spain. The garfish is then preserved in high-quality olive oil, which helps to enhance its flavor and texture. Garfish in olive oil is a popular ingredient in Spanish cuisine, particularly in the northern regions of the country. It is often served as an appetizer or snack, either on its own or with bread or crackers. Garfish in olive oil can also be used in a variety of dishes, such as salads, pasta dishes, and pizzas. The delicate flavor of the garfish pairs well with a variety of ingredients, making it a versatile ingredient in the kitchen.
How to serve Mariscadora Garfish in Olive oil:
O

n grilled toast: Try serving garfish on grilled toast, either plain or with toppings like preserved lemon, piquillo peppers, or a squeeze of lemon juice. The combination of the crispy garfish and the flavors of the toppings creates a delicious appetizer or snack.

In lettuce cups: Create a light and refreshing dish by serving garfish in butter lettuce cups. Drizzle with red wine vinegar and top with crispy shallots for added texture and flavor.

With piquillo peppers: Pair garfish with piquillo peppers, a type of sweet red pepper commonly used in Spanish cuisine. The combination of the garfish's rich flavor and the sweetness of the peppers creates a delightful taste experience.

Deep-fried: For a crispy and flavorful appetizer, give the garfish a quick batter and deep-fry them until golden brown. Finish with a squeeze of lemon juice for a tangy touch.
Disclaimer
Khayyan Specialty Foods, ZONA Food Market, Khayyan LLC and all its affiliates and partners make every effort to ensure that the product information provided on this e-commerce website and all packaging is current and accurate. Manufacturers do occasionally change their ingredient lists without prior notice. Information regarding product packaging and materials may differ or be more comprehensive than what is displayed on our website and packaging. We advise you to read labels, cautions, and instructions before using or consuming a product and not to rely solely on the provided information, including but not limited to the product description, country of origin, nutrition, ingredients, allergens, and other details. If you require further information, please contact us at www.khayyan.com.
Khayyan LLC, the owner of this e-commerce website, disclaims any and all responsibility for inaccuracies, omissions or misstatements on the product labels and throughout product descriptions found on this e-commerce website.
Share: